I'm not sure about y'all, but with a lot of my spices, I buy in bulk because I go through them so fast (specifically Italian spices such as Oregano, Parsley, Basil and Garlic, because my husband is Italian and let's face it, when you live in NY, you make and eat a lot of Italian food!). The big, bulky spice containers that I get from the grocery store and Costco take up too much room in my spice cabinet, so I decided to try my hand at this cute little spice storage idea using mason jars. I'm so happy with how they came out and even happier that I don't have to deal with the bulky plastic spice containers anymore–I can simply re-fill my blue mason jars when I'm running low and then store the rest.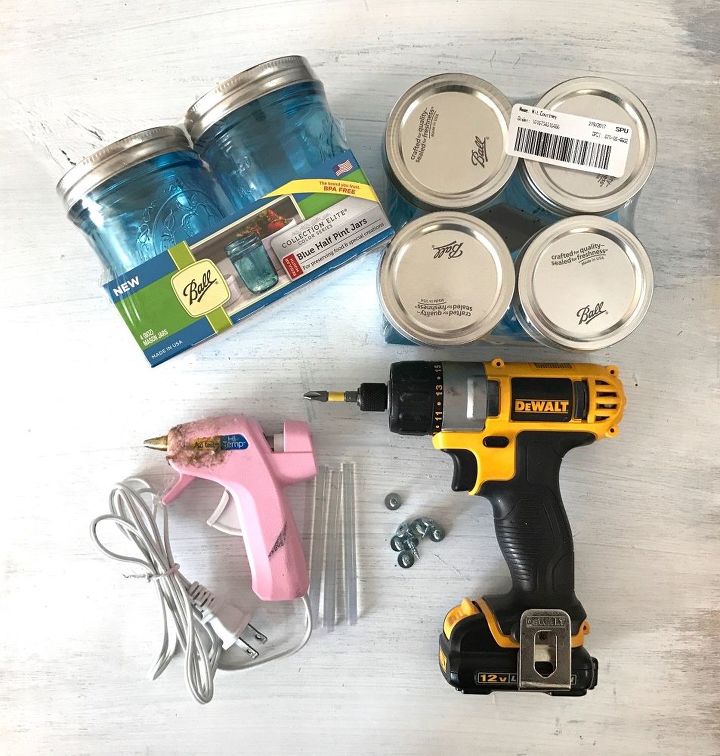 SUPPLIES:
-Ball mason jars (I used 8 oz. blue jars, but feel free to use whatever style mason jar you wish!)
-Dewalt 12v drill/screw gun
-HiTemp mini hot glue gun
-mini hot glue gun sticks
-wood screws (I used 1/2″ screws but you'll want to get whatever size is good for under your top cabinets that won't blow through your shelves.)
STEP 1: Hot glue seals
Because I was going to be mounting these jars to the underside of my top kitchen cabinets, I needed them to be secure, so I hot glued the flat seals to the lid of the mason jars.
STEP 2: Mount lids to underside of cabinet
Next, I took my drill and screws and drilled one screw from the underside of the mason jar lids to the underside of my top cabinet. I tried to get the screw as close to center as possible. Feel free to pre-drill a hole in to the center of your lids before mounting.