I was planning on making a glazing ball out of a bowling ball. I had seen the project here on Hometalk the other day. I went to RedRack today to purchase a bowling ball. I found one for $3.99. I was so excited. It was the only one they had. I put it in my cart and was still looking around. I decided I prefered a lighter option. And I didnt think Ihad enough of the gems to cover the whole bowling ball. My sister Laurie pointed out the glass globe and the piece of glass to set it on. It wasn't the same size as the bowling ball but I knew it would be easier to work with than the bowling ball. I needed something to put it on to raise it up. I don't know what the glass thing was for but it worked perfectly. The globe fit right on top. The globe and glass piece cost just $1.00 for both together. I couldn't wait to get home to start working on it. I looked all over my house for my adhesive glue. I glued 6 of the glass gems on the globe. I bought the big bag of gems at an estate sale on Saturday for $2.00. Well the adhesive took forever to dry and my fingers were getting tired of holding the gems in place. I decided to switch to my glue gun. I wish I started with it instead of the adhesive. I was cooking with gas now. I was glueing at a fast pace. Before I knew it I was all done. I added my battery operated lights. It turned out good.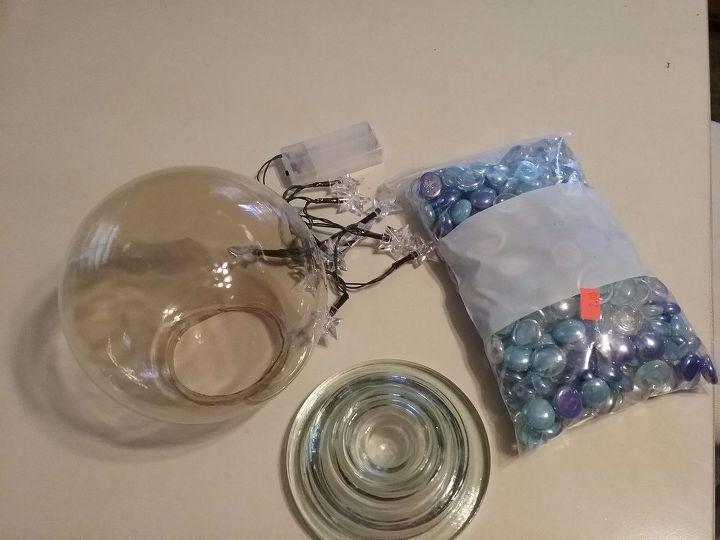 My supplies for my glazing ball/light
I washed the globe and glass piece with warm soapy water. And dried them off real good. I separated the gems into the three colors. Dark blue, slate blue and clear.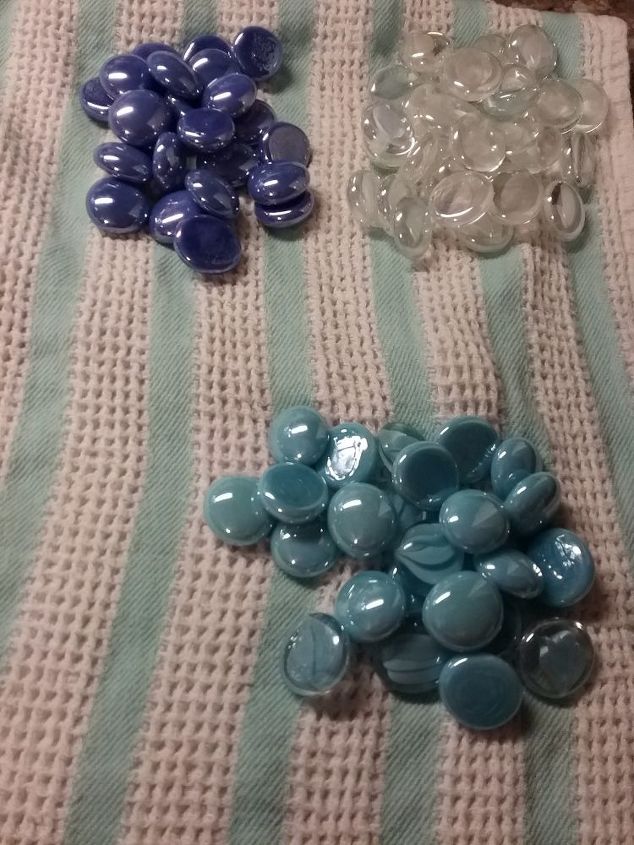 My beautiful gems.
I started applying the gems with adhesive. I got as far as applying 6 gems and stopped. It was taking such a long time for the adhesive to dry. I switched to my glue gun. I'm so glad I did. I was able to get more glued in a shorter amount of time.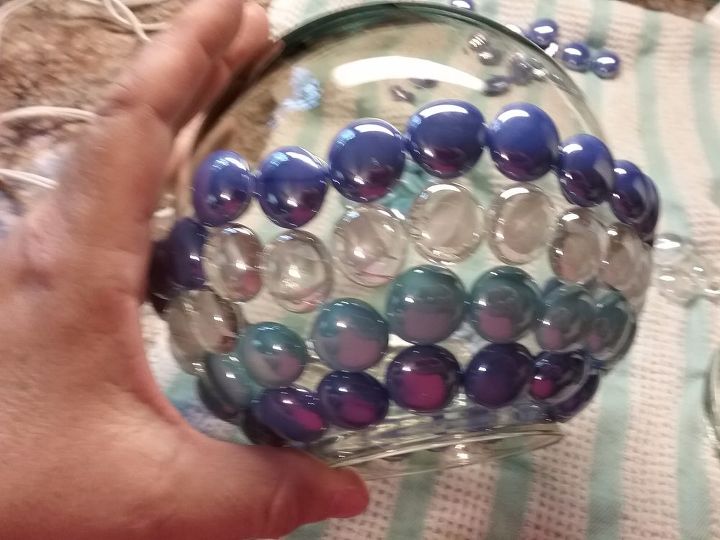 Half way done!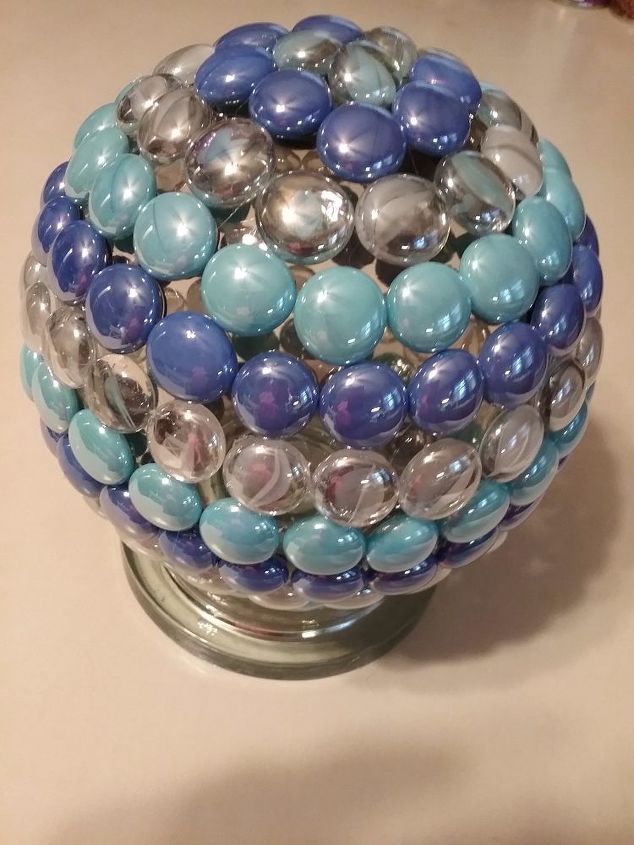 All of the gems are glued on.
I finished glueing on the rest of the gems. I put the battery operated lights in the globe. I sat the globe on top of the piece of glass. On goes the lights. I can't put it outside because the hot glue can not hold up to the weather. The gems will come off. I like it as light too.

Here it is with the over head lights off.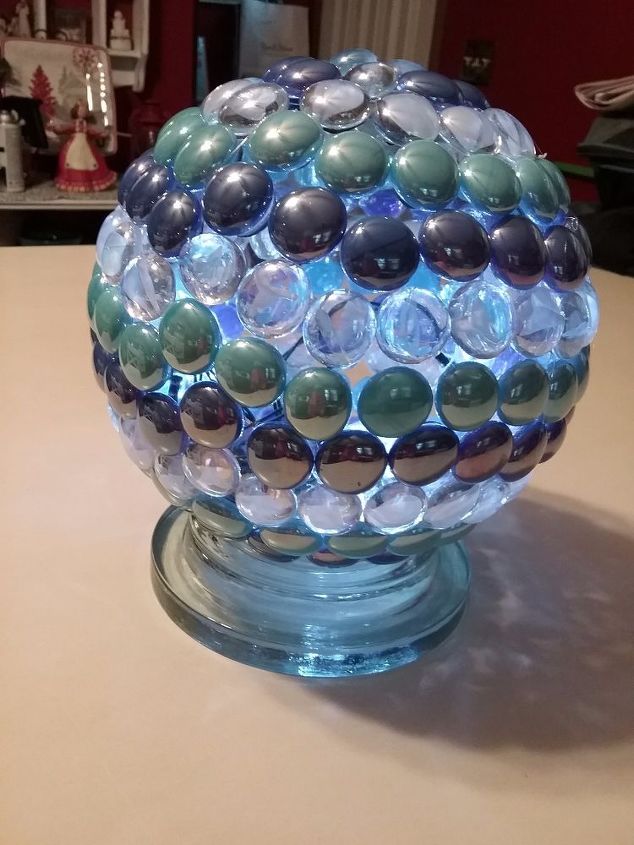 Here it is with out the over head lights on.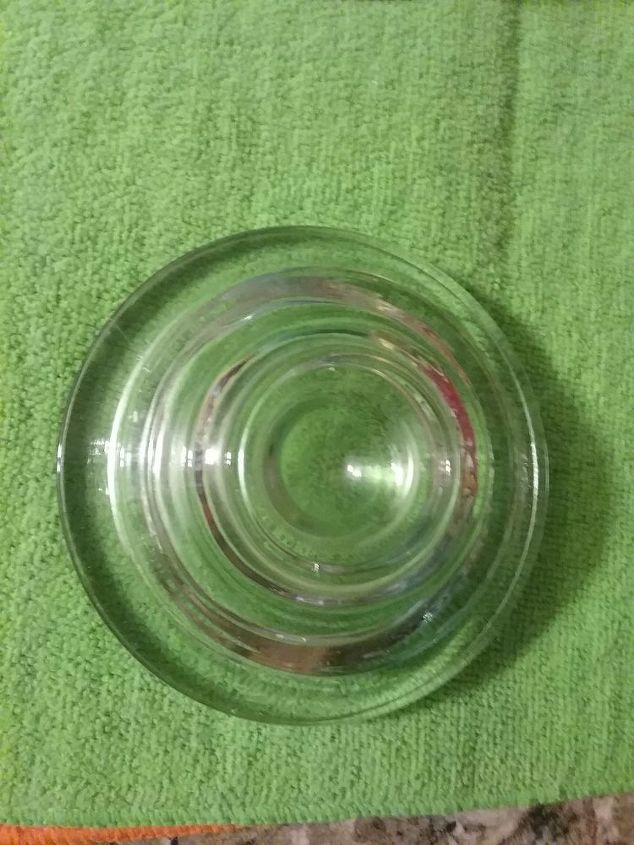 Here is the glass piece I put the globe on.
Materials I used for this project:
Glass gems   (Estate sale/Amazon)
Glass globe & Stand $1.00   (RedRacks/Amazon)
Battery operated lights   (I already had them/Amazon)