When it comes to mosquitoes, I've won the dubious honor of being the "Most Popular Girl in the Block."
Over the years, I've tried almost any mosquito repellent you can think off. I even got a 97% DEET – can you imagine? – for a trip to the rain forest. Hate to say, that besides being toxic, it did not work! Nada.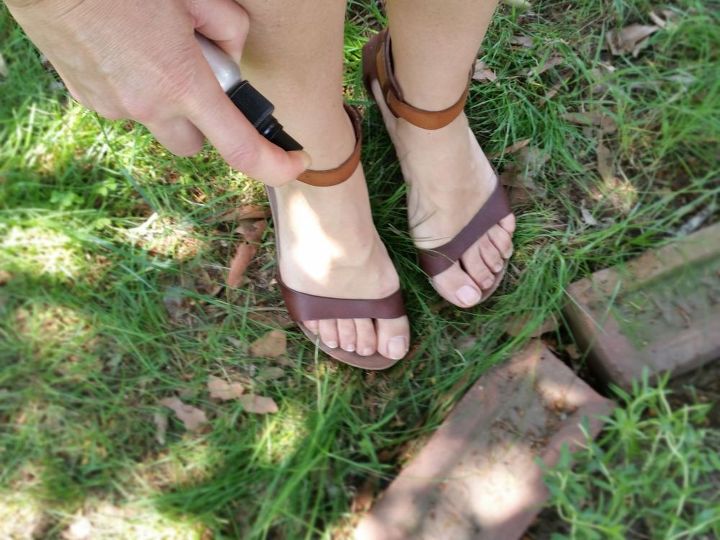 That's when I decided to create my own recipe.
So easy that you won't believe it! Here's what you'll need to make yours:
For the base:
2oz Pure Witch Hazel
1oz Rubbing alcohol – The 70% Isopropyl is ideal but the 50% will work as well.
1oz Distilled Water – if not available use boiled waiter
Essential oils:
13-16 drops of Essential oil of Citronella
11-14 drops of Essential oil of Lemongrass
12-16 drops of Essential oil of Peppermint
11-14 drops of Essential oil of Grapefruit or Lemon
10-14 drops of Essential oil of Rosemary
10-14 drops of Essential oil of Eucalyptus
6-10 drops of Essential oil of Lavender
To store:
Glass or metal spray bottle to dispense
A glass jar with a lid to store all your repellent
NOTE: essential and fragrance oils are not the same. You'll need essential oils to make this recipe. Though a bit more expensive than regular, I prefer organic essential oils.
Plants are grown without pesticides and I found organic oils to be better quality. There are many brands out there but in my experience not all are the same! When available, I buy Aura Cacia.
OPTIONAL OILS:
Tea Tree oil
Jojoba oil (preferred), almond oil, or grape seed oil.
Neem Oil
As for the oils, it is ok to skip some though I found that combining them works better. Mosquitoes in certain areas seem to be immune to particular oils that otherwise work well in others.
TIP: If you can't find witch hazel use distilled or boiled water instead, and adjust amounts accordingly.
You'll also need a scale and a glass container with a closed lid to store your repellent-hard plastic is ok, but not ideal-and a scale to measure your base mix.
Let's get started!