I redesigned my kitchen last year and while I was waiting on the back ordered pantries (5 months, the literally, SLOWEST boat from China!) I decided I needed a little project to keep me busy. Since the matching island cabinets and countertop was quoted another $700 and it was a little too big for my purposes, I decided to start haunting the thrift stores again.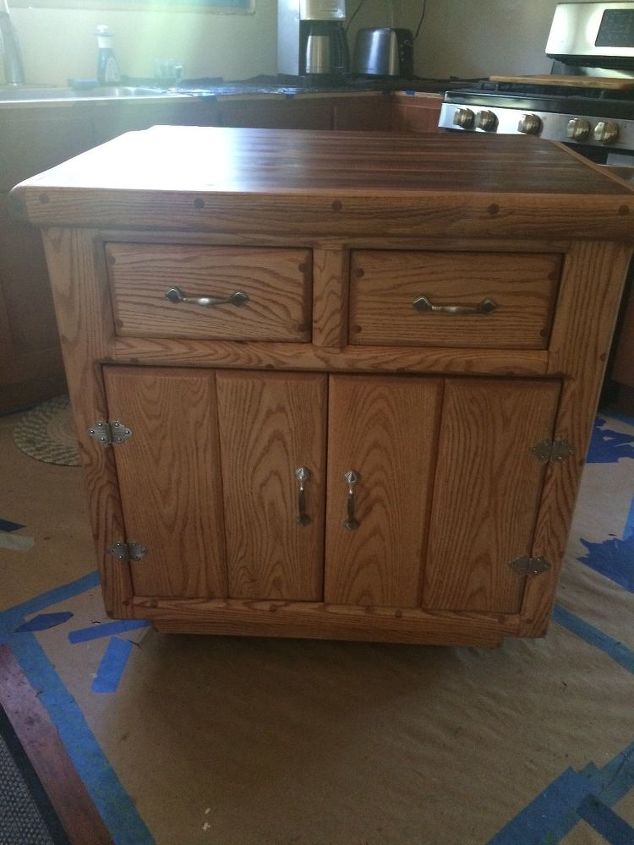 So I found this little gem for $9.99 plus I was "offered a senior citizen discount" (UGH! Didn't even now about this, but of course I took it! HAHA!), this solid Oak, handmade cabinet was mine for a mere $8.00!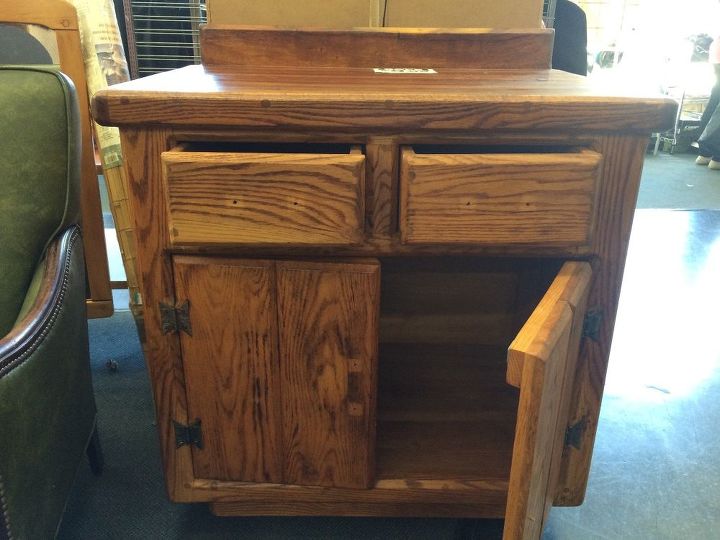 As you can see the top was solid mixed woods which could easily double as a cutting board. It also had a small – for lack of a better word – 'backsplash' built onto it. It obviously was built to be up against a wall because the back of the cabinet was plywood.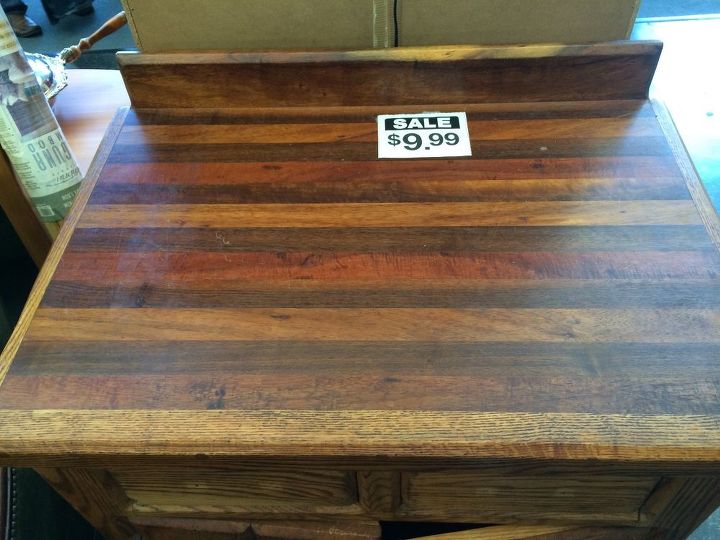 Got it home and sanded every inch of it. Took off the remaining old hardware (hinges). I took off the "backsplash", laid it flat and used some wood biscuits, glue and two giant clamps to create on overhang on the back side. I covered the plywood on the back with some of my old cabinet oak veneered scrap I had in the junk pile. Below is a clearer idea of the woods on the top of the cabinet.
Since I may want to use the top as a cutting board I didn't finish any of it but instead just give it a little food safe wood oil. The rest of the cabinet I left natural and polyurethaned it. You don't need this specific kind, just something that is Food Safe will suffice.
I finally added some 2×4's under the skirt of it and screwed on some wheels (no need for locking wheels since this piece weighs quite a bit) and voila! My little Kitchen Island I can move to wherever I most need it for less than $25!
As you can see, I have a block of granite that the granite guy made for me that I use for a cutting board. Not in any hurry to resend the top anytime soon!
I also threw four towel hangers on the side for the rolling pins and pot holders. I saw that idea somewhere, probably here!, and liked the homey-ness of it.
You can see that there were only 3 Oak edges on the top and since I was not in the mood to make this a full blown project, deciding to lay it even with the top and putting the towel rack underneath seemed like the next best thing. I'm hoping people will just think it's designed that way, or are to considerate to question me anyway. It's worked so far 😉
Easily moveable and quite convenient. Plus I keep all of my baking utensils and accessories in it so I'm not searching all over the kitchen for a 1/3 measuring cup!
Don't be afraid to try things like this! Heck, for the money I spent on this cabinet, I could have totally screwed it up and had to burn it in my fireplace and STILL saved money rather than buying a box of wood from the grocery store!