When choosing counter tops for our new kitchen, I'll be honest: CHEAP was the #1 priority. So Ardex was the clear winner. But there was one problem with all those concrete skim-coating tutorials out there: they assumed you had an EXISTING counter. What do you do when there's nothing to spread the Ardex on? I'll show you how we built our counter tops from scratch, and spent less than $150 on the whole project.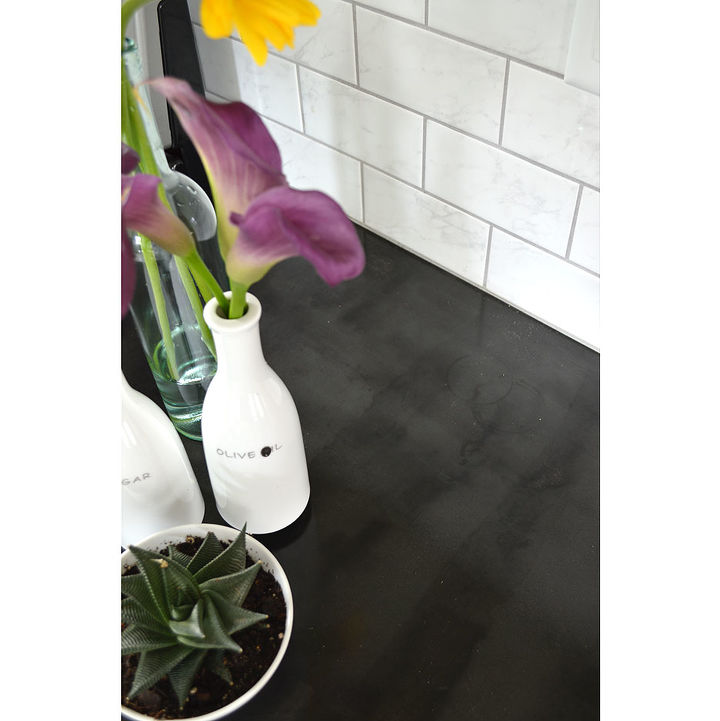 Ardex counter tops built from scratch.
Back when we were discussing counter top options (almost a year ago now), very few people had heard of Ardex and faking your way into concrete counters. In fact, I found only two tutorials on the subject, but they were enough to convince me to give it a try. Chris was not so convinced. He was absolutely certain that normal particle-board counters (like the laminate ones in the tutorials) would flex, allowing the thin coating of concrete to crack. So, in order to add a little more strength and stability to the counters, I engineered this solution: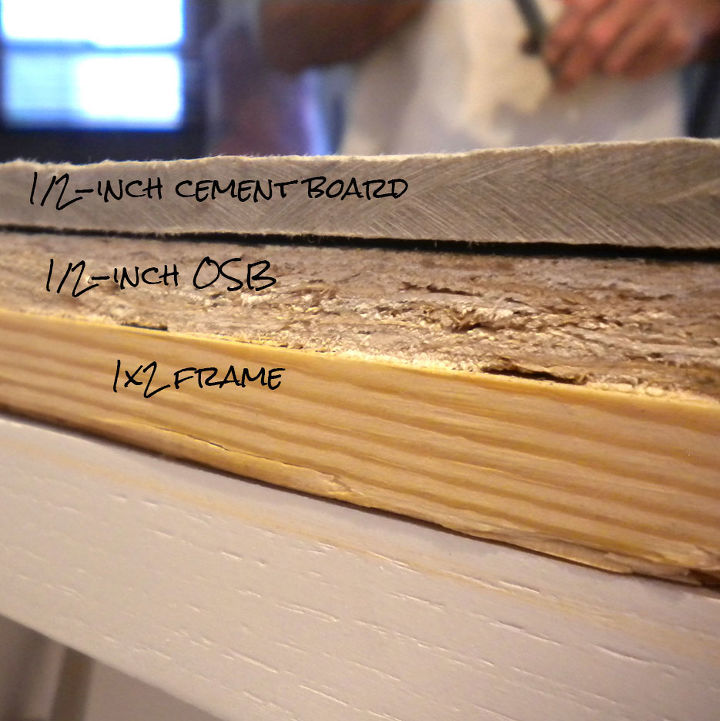 Counter top cross-section.
We built a "frame" out of 1x2s. Then we topped it with 1/2-inch OSB (to satisfy my need for "cheap"), and 1/2-inch cement backerboard (to satisfy Chris's need for "durable"). The final thickness of those three layers came to 1 3/4 inches, a little more than a standard counter top.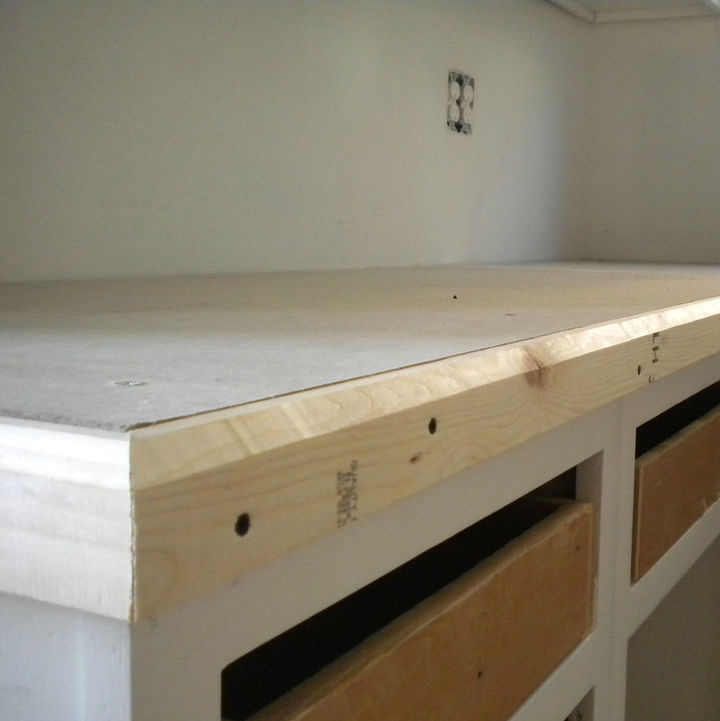 Add a trim piece around the edges. Fancy-schmancy.
We used 1x2s with a beveled edge to fancy 'em up a bit. This trim piece also creates that little overhang you usually see on counters.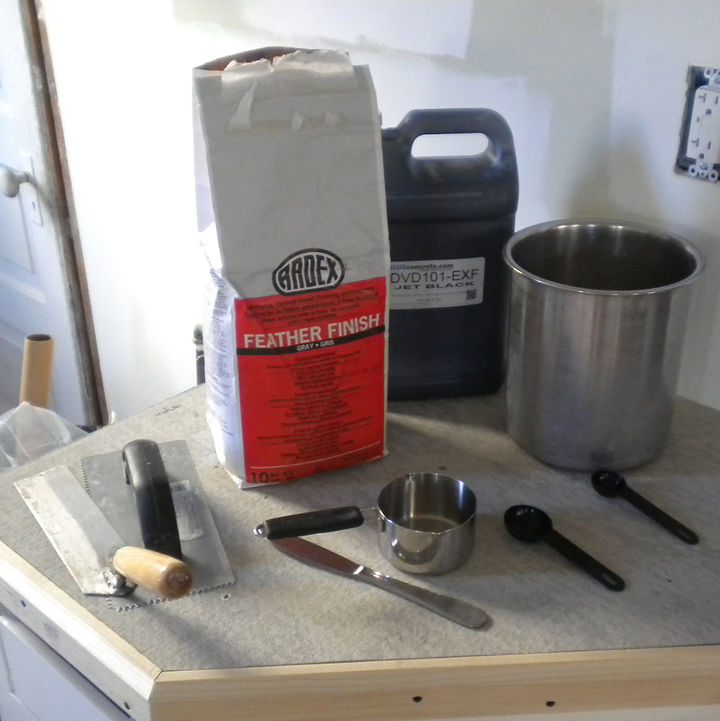 Easy Ardex counters: the supplies.
Once we had a counter top to coat, we mixed up our Ardex with liquid black pigment.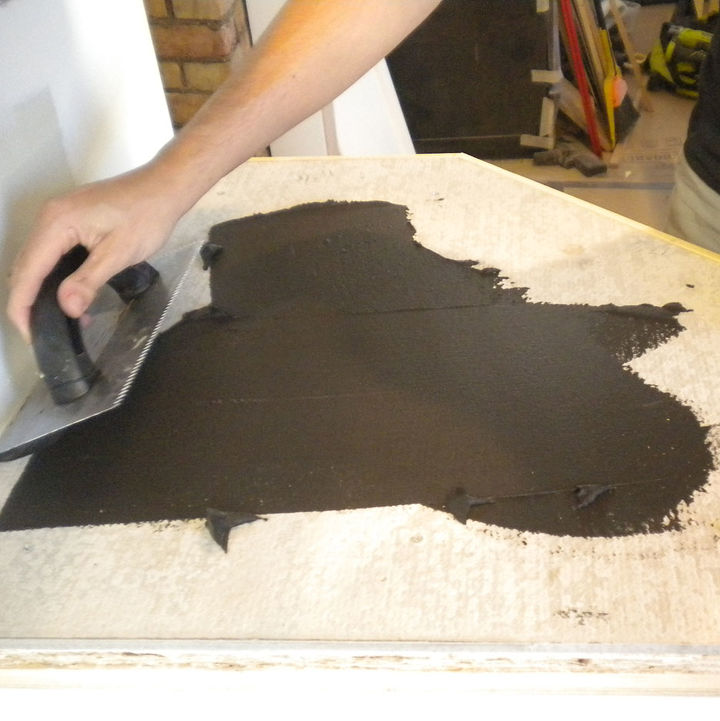 Apply the Ardex in small batches.
Ardex sets up pretty quickly, so we found we had to work quickly and in very small batches. We mixed it thinner than the directions on the bag recommend; it seemed like a pancake-batter consistency was best for our purposes.
(Normally, you wouldn't want to mix concrete with too much water, because it seriously weakens the final product. But we're not using this in a structural application, so no biggie…and so far, we haven't had any cracks.)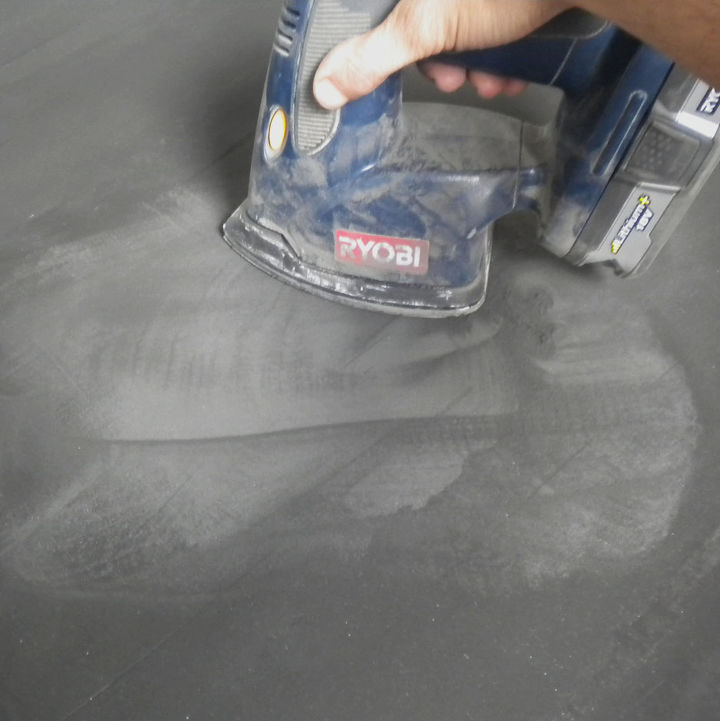 Sand lightly between coats.
We ended up doing three coats of Ardex, knocking down the high points between each coat. You don't need to sand too much, because each coat goes on a little smoother. After the final coat, I used 220-grit sandpaper and finished it by hand, instead of using the sander.
Then it was time to seal.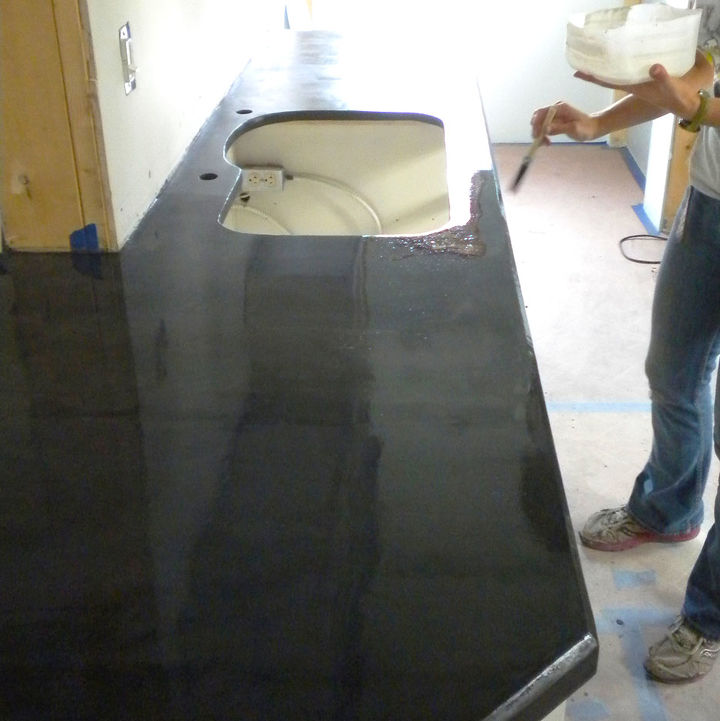 Sealing the counter tops.
I chose a concrete & masonry sealer for waterproofing. Once it was fully dry, I followed it up with wax.
The final result is gorgeous glossy black counter tops, that cost less than the cheapest laminate.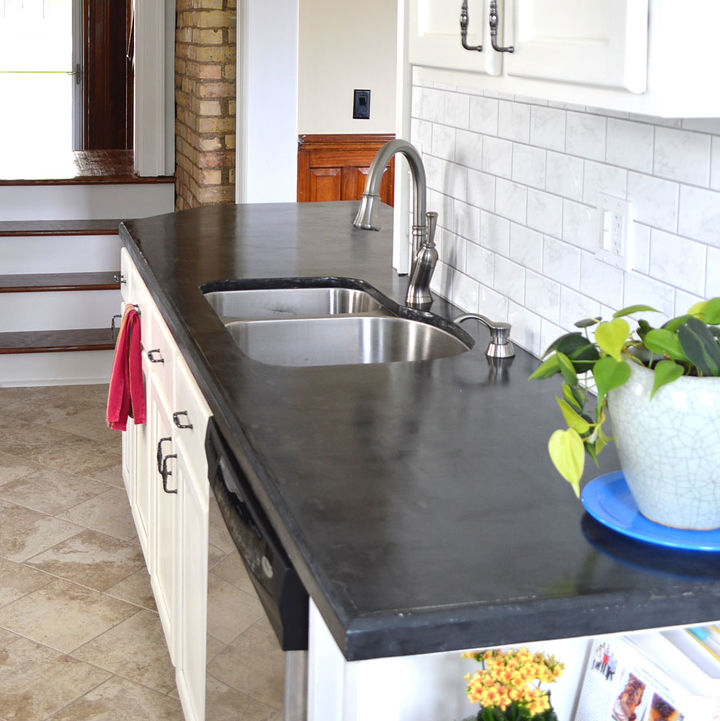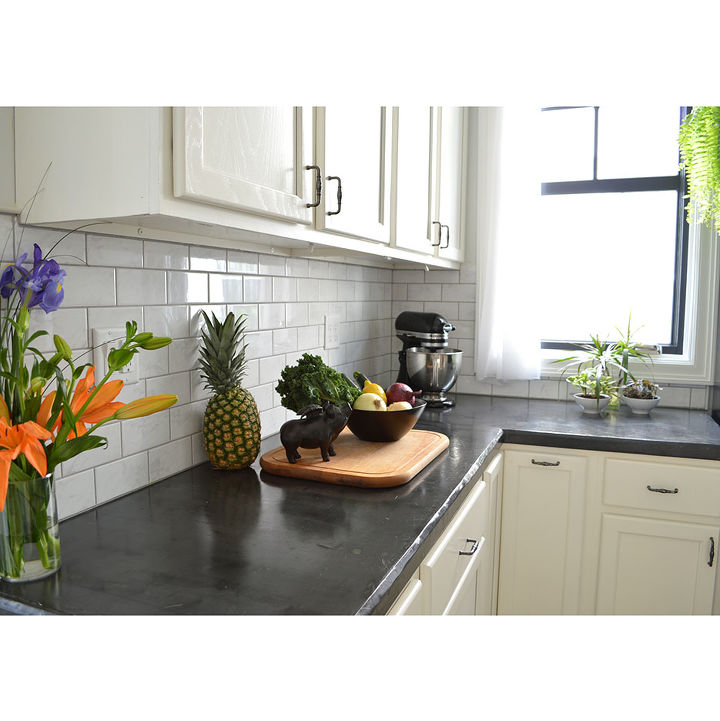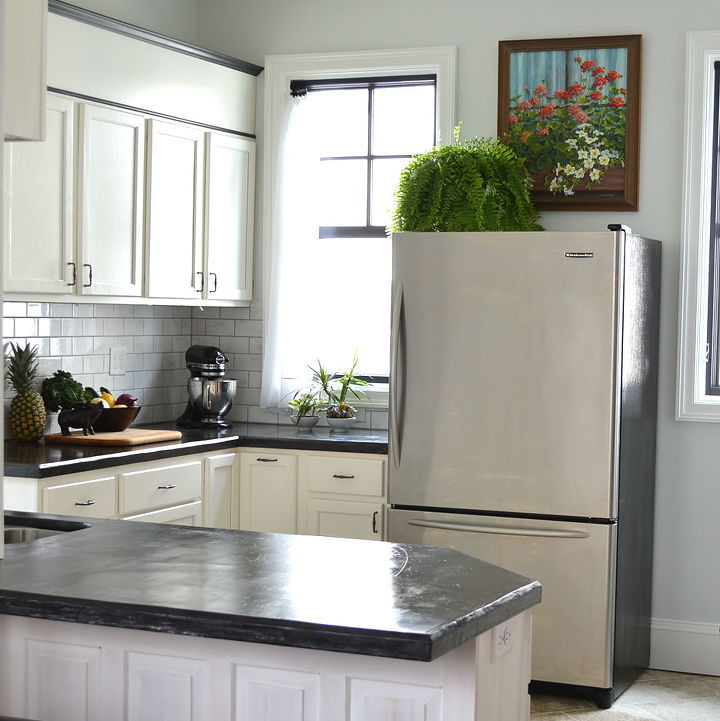 For the full step-by-step, come on over to my blog: http://www.sarahsbigidea.com/2013/09/faux-crete-counters-from-scratch/. There's lots of good Q&A's in the comments section there, too.
I also did a 4-month follow-up on the durability of these counters here: http://www.sarahsbigidea.com/2014/01/to-faux-crete-or-not-to-faux-crete/.
And if you'd like to see the whole kitchen renovation (and some pretty impressive before-and-afters, if I do say so myself) check this out: http://www.sarahsbigidea.com/2014/05/the-kitchen-reveal/