I'm not even kidding you with this one. Pineapple Upside-Down Cake…in a microwave. Yep. You could be eating this awesomeness in about 10 minutes. It just doesn't get any easier.
So the inspiration behind this cake….the blazing hot temperatures we've been experiencing in Sacramento. I start breaking out in a sweat if I even just LOOK at my oven. It's crazy around here.
But the baking most go on! Or, at least, the microwave baking 🙂
This really couldn't be easier but I'm going to give you the step-by-step low down anyways.  It starts with a little butter and brown sugar making magic together in the bottom of a 9-inch microwavable cake plan.
Pineapple slices are arranged just-so (aka, however you can fit them in) and cherries are placed in the center of each pineapple.
Half a box of yellow cake mix is combined with the pineapple juice from the pineapple slices and an egg and is spread evenly. Just so.
The cake is then popped in your microwave for 8 minutes and inverted onto a cake plate. Voila!
Microwave Pineapple Upside Down Cake. In just 10 minutes. And did I mention that it tastes AMAZING!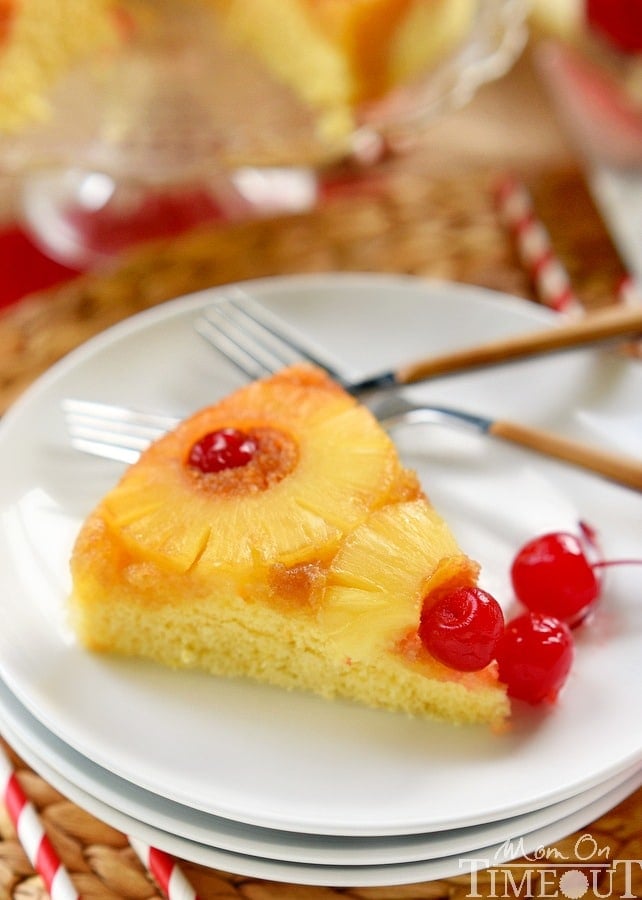 The perfect cake recipe for hot summer days!
Microwave Pineapple Upside Down Cake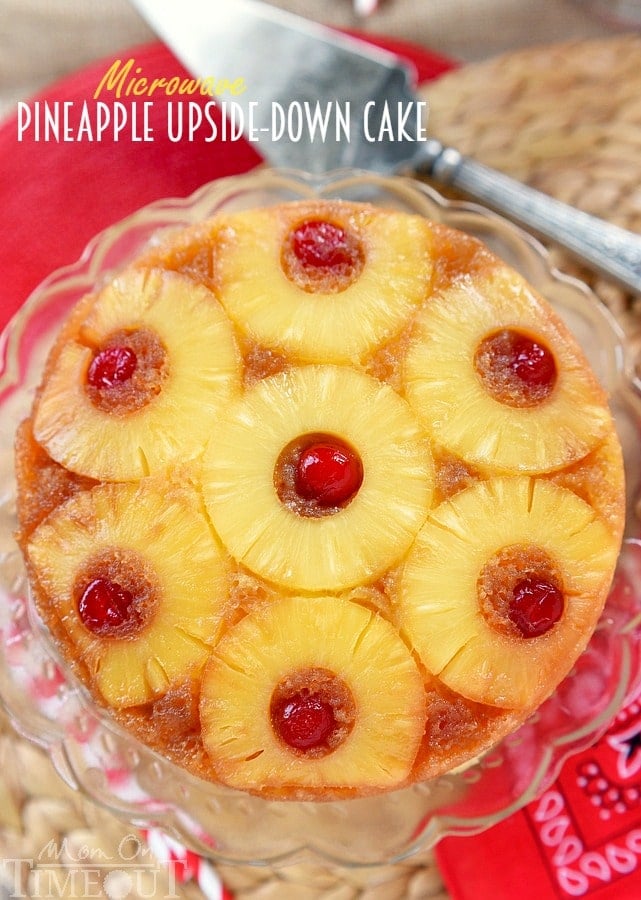 Print
Prep time
2 mins
Cook time
10 mins
Total time
12 mins
Author: Trish – Mom On Timeout
Recipe type: Dessert
Serves: 8 servings
Ingredients
4 tbsp butter
⅓ cup packed brown sugar
1 20 oz can pineapple slices, drained, juice reserved
7-8 maraschino cherries
1½ cups yellow cake mix (half of a 15.25 oz box)
½ cup pineapple juice (from can of pineapple slices)
1 egg
Instructions
Spray a 9-inch cake pan with baking spray.
Place butter inside cake pan and microwave on high in 30 second increments until the butter has melted.
Stir in the brown sugar until dissolved. Spread evenly in the pan.
Place pineapple slices in cake pan and put a cherry in the middle of each slice.
Combine cake mix, pineapple juice and egg in a medium bowl and stir just until combined.
Spread over pineapple slices.
Place cake pan in the microwave and heat on high for 8 minutes. Let rest 3-4 minutes before inverting onto a cake plate.
Let cool.