It's not much fun to have a blocked nose. You can't breathe properly and sleeping can become a painful experience and the only thing you can think of is how to get rid of your stuffy nose quickly.
A runny nose can be just as annoying, even embarrassing, especially when you're surrounded by people and all your attention is put on constantly blowing your nose and cleaning your face.
To deal with nasal congestion, most people reach for over-the-counter nasal sprays. But there are disadvantages to using chemical substances. To begin with, these sprays are drugs, so they come with side effects and can be addictive.
It's much better to master an approach that is less invasive and, in many cases, more effective. The simple technique I present in this article is based on acupressure. It uses gentle pressure to four points of the face to help you clear your nose.
How To Naturally Clear a Stuffy or Runny Nose
Follow the instructions and see how your nose reacts.
General instructions:
Use your fingertips to apply gentle pressure.
Use round movements – the movement is a pushing-releasing type of rotation.
You should not feel any pain.
Do the cycle 3 times.
Point 1:
Point 1 is located on a cavity at the corner of the nostrils – it's the bottom part of your nostrils.
Gently push the nostrils together with a rotating movement. As you do this, you almost close, and then open the nostrils.
Perform the movement 10 times.
Make sure not to push on the nose cartilage. You're only pressing the bottom part of the nostrils.
Point 2:
Point 2 is located just below the corner of the eyes, near the nose, where the tears come out.
Perform a gentle rotation at this point 10 times. Don't lift your fingers, but just move the skin, so you feel the corner of your eye as you push.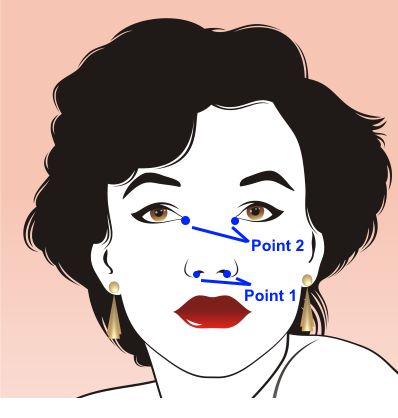 Continue in the next page —>