This post is dedicated to my sister who's thinking of opening up a wall in her home. Even though I love her house just the way it is, if she's determined to do it she might as well know what she's getting herself into, right?
For us, removing an interior wall was the best investment in time and effort we've ever undertaken. Because our house faces north and there are no windows in the front of the house, our dining room was dark and uninviting. Opening up the shared wall to our family room let in a flood of southern light and has changed the whole flow, look and feel of our main level.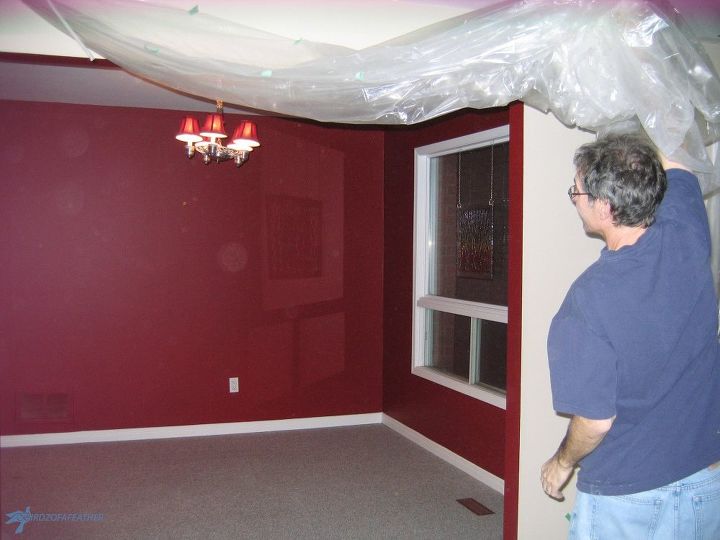 However, it's not as easy as just knocking through to the other side. There are things to consider such as whether the wall is load bearing, how to transition the flooring where the wall is removed and whether there are there any utilities such as plumbing or electricity in the wall cavity that may have to be moved. Most importantly, if you don't know whether a wall is load bearing or not, call in a professional. Don't be tempted to mess around with a wall that may be potentially holding up your second story! Bryan Baeumler has some good insight on load bearing walls in a video clip you can view on my blog site.
As hubs used to build custom homes, we knew our wall wasn't load bearing so we went ahead with opening it up. Once we determined the size of our opening, hubs cut some exploratory holes into the bottom of the drywall to see what obstructions we would need to deal with. We found an electrical outlet on the other side of the wall. Whenever you're cutting into drywall, ALWAYS TURN THE ELECTRICITY OFF AS A PRECAUTION! I learned that the hard way on my very first house reno when I was shocked by a loose wire.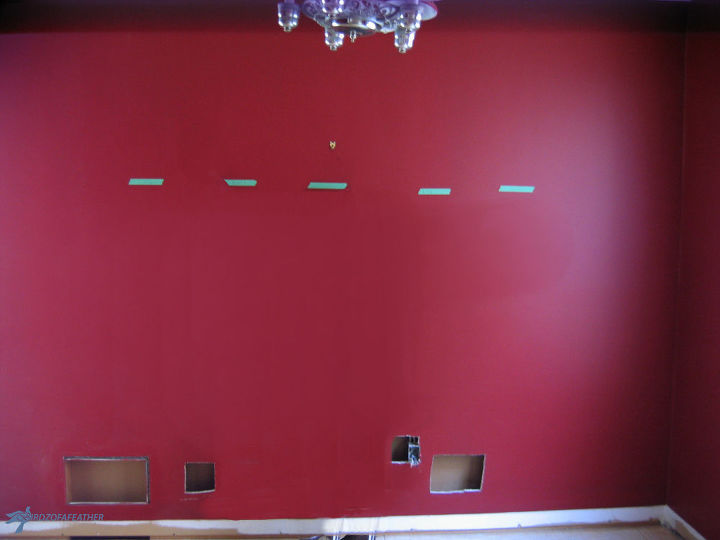 If you're able to, it helps to open up to the studs on either side of the opening so you won't have to add additional studs to finish it off.
Before you start, don't forget to don a mask, safety goggles and gloves. This is messy, dusty work so don't overlook these safety precautions:) Speaking of dusty, cover up any furniture pieces you're not able to move to another room. Have a wet/dry vac on hand to vacuum up any debris as you go to keep the work site as clean as possible (or you'll just trek the dust through the rest of the house).
First remove the baseboard on either side of the wall (you'll be using it again to trim out once you're done). Hubs used a stud finder to determine where the studs were. It's helpful to mark the opening with painters tape so you can clearly see where you're cutting, but we used pencil to draw out the opening on the wall.
We decided to remove our drywall right up to the ceiling so hubs scored and cut along the lines with a utility knife. If you have crown moulding that you want to keep, as in my sister's case, you'll want to match the height of your opening to other doorways in your home. In that case, remove the drywall up to the height of the doorway, then cut the studs with a reciprocating saw and leave them hanging from the ceiling so you can add in a header. If your crown is plaster, be careful as you nail in the header or the force of hammering may crack it. The video at a link on my website gives some good general tips for framing out an opening in a non-load bearing wall and framing out for a pass-through.