Sometimes it can be hard to find a duvet that fits your needs, but did you know you can make one? Even with a 45″ fabric! This is a simple sewing tutorial that will show you how you can transform a flat sheet and several yards of fabric (no matter the width) into a custom duvet cover!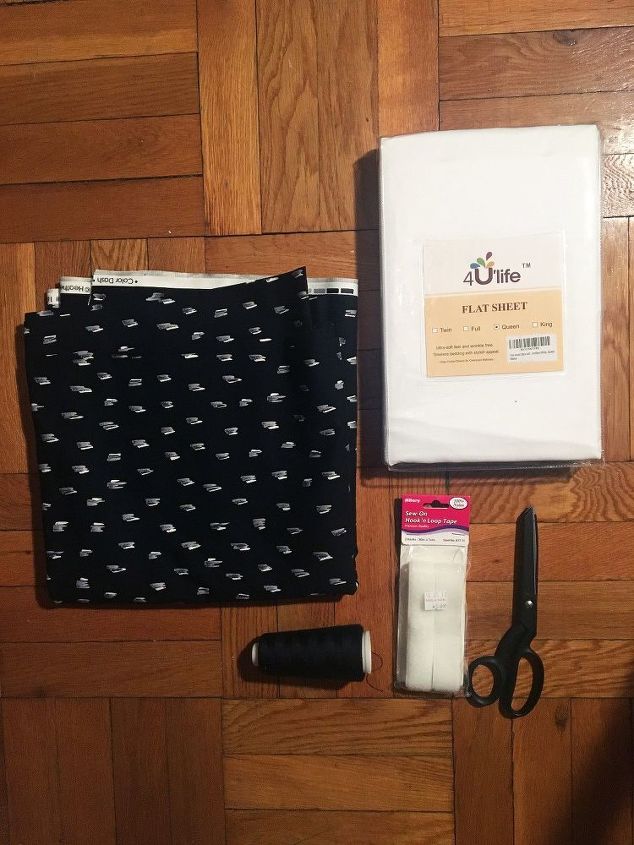 SUPPLIES:
-5 Yards of Fabric (Mine was 45″ wide)
–
1 Flat Sheet
in the Size of Your Comforter
-Sew On Hook and Loop (Velcro)
-Scissors
-Sewing Machine
-Thread
-Comforter to be covered (not pictured above)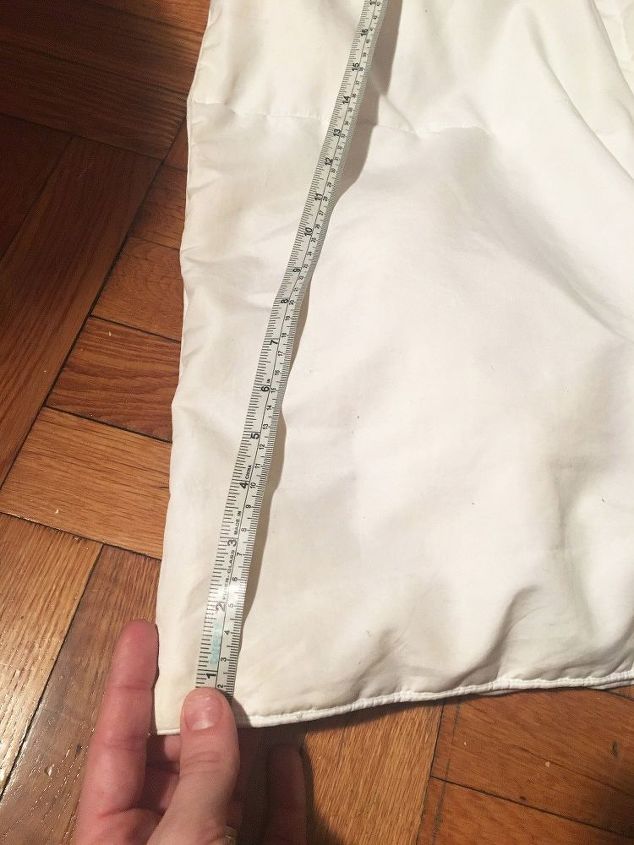 STEP 1: Measure your comforter
Measure the length and width of the comforter you are trying to cover (mine is a queen size).
STEP 2: Measure your sheet
You will need to add several inches to your measurements to allow for seam allowances. For the sheet which will serve as the back of the duvet you will add 6″ to the length and 4″ to the width. For the front or top of your duvet you will simply add 4″ to both the length and the width. For instance my comforter measured at 84″x86″ so front/top of the cover at 88″x90″ and the back/bottom at 88″x92″.
Cut your
flat sheet
to the appropriate length and width. Remember that this serves as the back/bottom of your cover and will need the additional 6″ in length and 4″ in width.
STEP 3: Cut your fabric
Cut the top/front portion of your duvet out of the fabric of your choice. Because most fabrics are only sold with a width of 42-60″ you will need to cut 3 separate panels out which is why this calls for so many yards. Cut your first piece out with the full width of the fabric and the length needed according to your measurements (plus the 4″). My first piece measured at 45″x90″. Now you need to figure out how much of the width still needs to be covered. For example, my comforter has a width of 84″ plus the 4″ seam allowance (88″) and my middle panel is only at 45″ wide meaning I still need to cover 43″.
STEP 4: Cut out 2 more panels
Now you need to cut out 2 more panels to cover the remaining width (for me 43″). You will want these panels to measure evenly. Each will of course have a length that measures the same as your middle panel and each width will need to be your remaining width cut in half plus a 1/2″-1″ seam allowance. Since my remaining width is 43″ each side panel needs 21.5″ plus an extra 1/2″ seam allowance to connect it to the middle panel meaning each panel measures at 22″ wide and 90″ long. Place your side panels one on each side of the middle panel you just cut out in step 3. Normally you would cut off the selvage edge, but I knew it would be eaten up in my 1″ seam allowance so I just left it in.
(*I hope this isn't too confusing)
STEP 5: Sew your panels together
Lay your side panels and your middle panel face to face and sew them together making sure the lengths line up. If you have a certain pattern try to make sure they line up as well as possible.
press the seams nice and flat.