Whether leaves are green or falling, we are excited here to put these nature gift back home and garden for nature inspired projects. These 20+ DIY Leaf Craft Projects For Your Home and Garden will definitely be a jump start to transform your living space into a fun wonderland that looks just as festive as the outdoors!
DIY Botanical Wall Art to Decorate Your Walls:  take any leaf and place it over the paper. Apply spray paint in the color of your choice. When the paint dries remove the leaf and you will get a white silhouette of the leaf. Then peel away the dried art masking liquid that you applied in the beginning and a white border will appear. Frame it and hang it on your wall.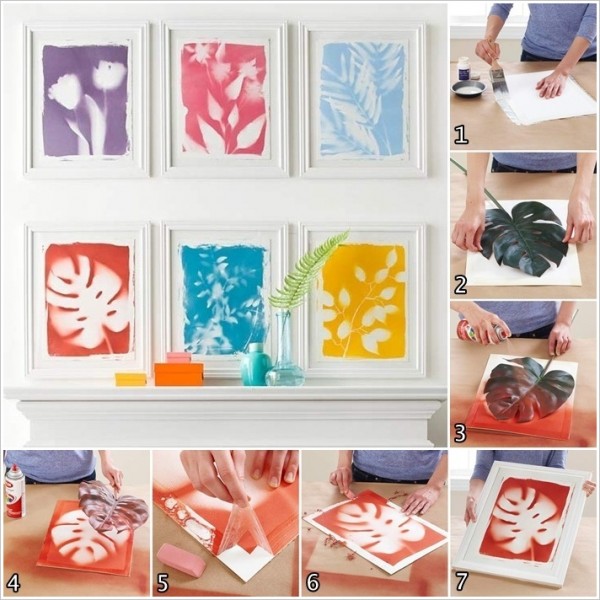 DIY Botanical Wall Art  Via BHG
Easy Holly Candles: The technique is good for candles, chocolates, soaps.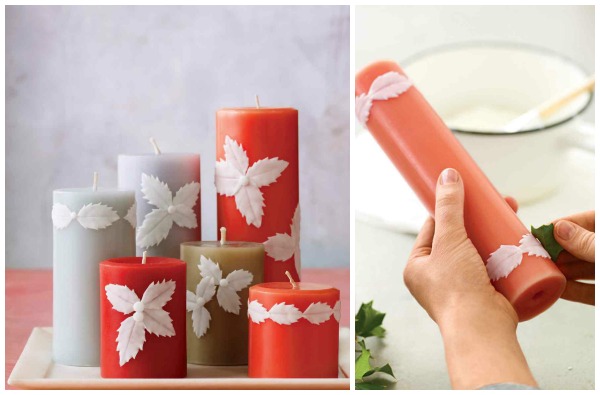 Leaf Decorated Easy Holly Candles Via Martha Stewart
DIY Big Leaf Printing for You to Try: To make this wonderful and yet simple leaf print first you have to take a tray and create a hotchpotch of colors in it.  Be careful not to mix the colors completely. Then take a big leaf and put it onto the tray of paints.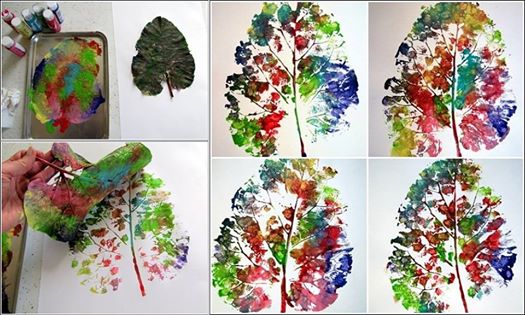 Maple Leaf Mason Jars Lantern: These Maple Leaf Mason Jars are pretty as a picture and they're an easy DIY you'll love to try. Pop a candle inside and they omit a glorious glow!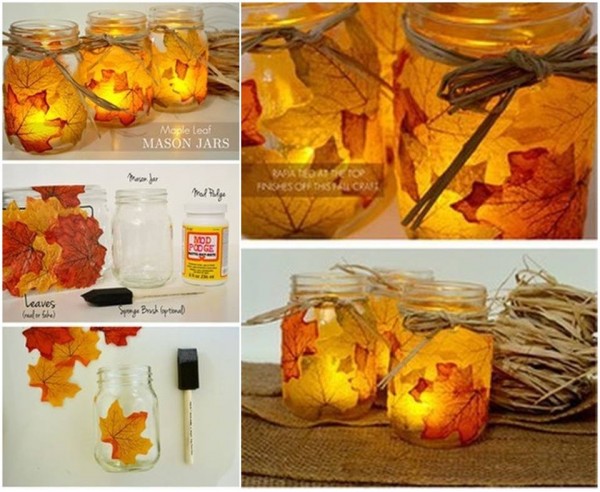 Maple Leaf Jars Tutorial via Spark & Chemistry
Leaf Stepping Stones: These Stepping Stone Leaves will make a fabulous addition to your backyard!  Don't they look absolutely stunning and they will bring your paths to life!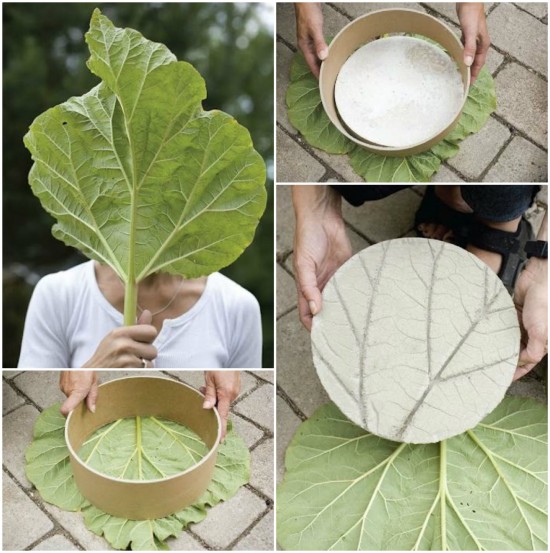 Leaf Stepping Stone Tutorial via Craft By Photo
Fall Leaf Rose Flower Bouquet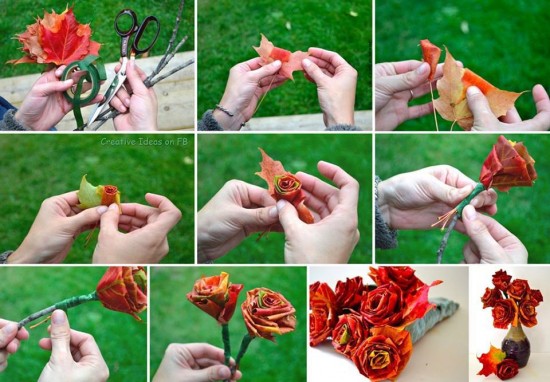 Leaf Stone Bird Bath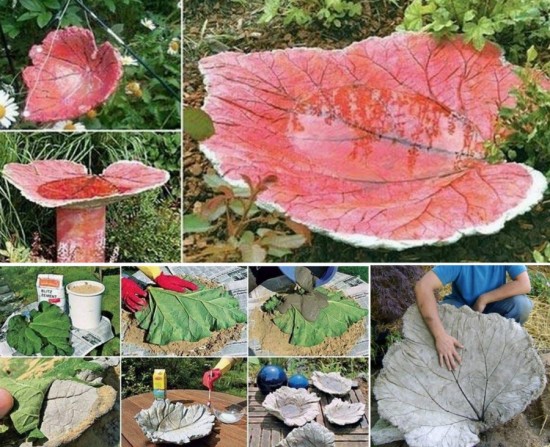 Leaf Stone Bird bath Tutorial via Garden Stew
Leaf Stepping Stones: These Leaf Stepping Stones will make an amazing footpath! Paint them up in colours you love and add a whimsical touch to your garden.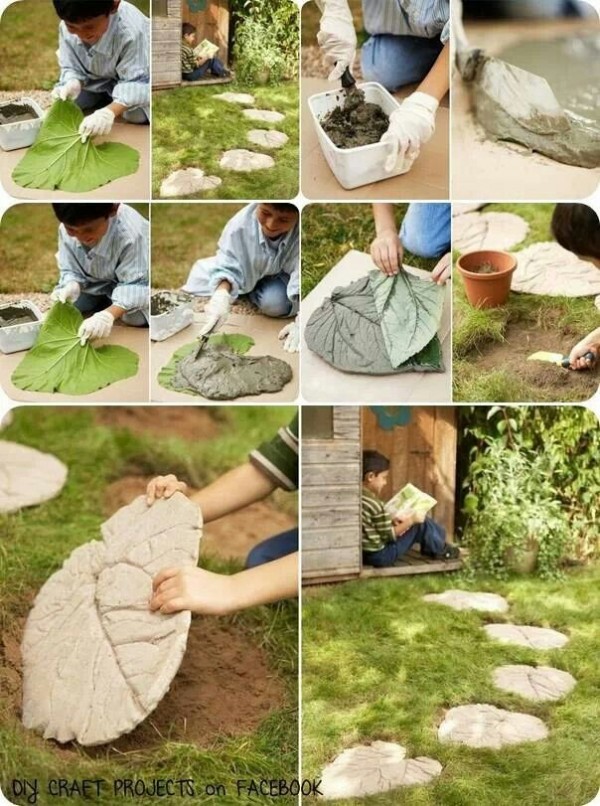 Leaf  Stepping Stones Tutorial via Garden Web
Clay Leaf Jewelry Bowl: Use air dry clay and fallen leaves to make bowls that are perfect for jewelry, keys and other knick knacks. You can paint them into colors, too.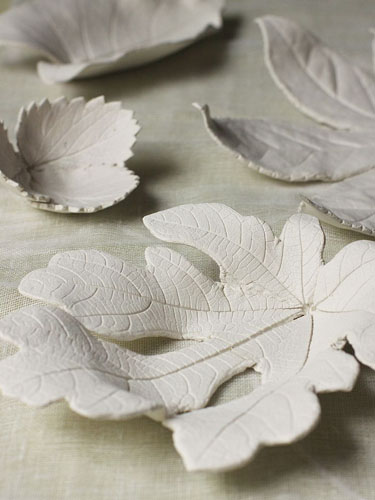 Clay Leaf Jewelry Bowl Via Urban Comfort
Leaf Wreath: Use artificial leaves or real ones preserved with glycerin for this festive door wreath decoration,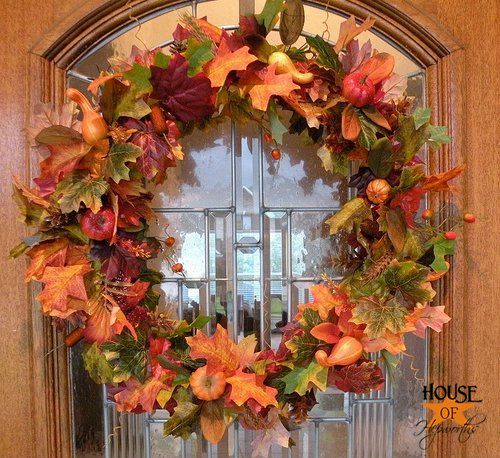 Make Your Own Door Wreath Via House of Hepworths
Leaf Pillow Cases: Turn leaves into the ultimate fall stamp with just a bit of black fabric paint. This bold leaf graphic transforms these plain, decorative pillows into a stand-out piece of living room decor.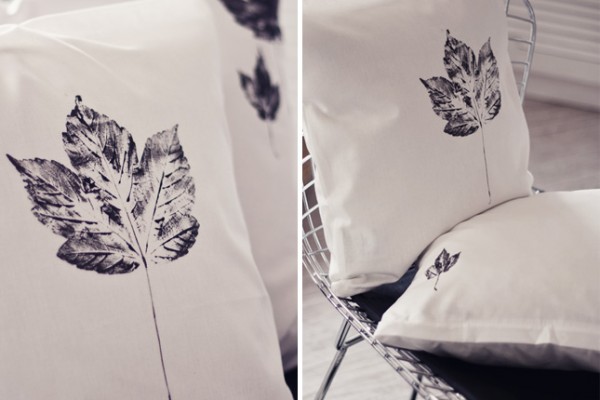 Leaf Pillow Cases Via Butik Sofie
Glitter Leaves Garland: Embrace the dark browns and rich golds of autumn with a glittery twist. Hang this garland anywhere in your pad that could use some extra sparkle.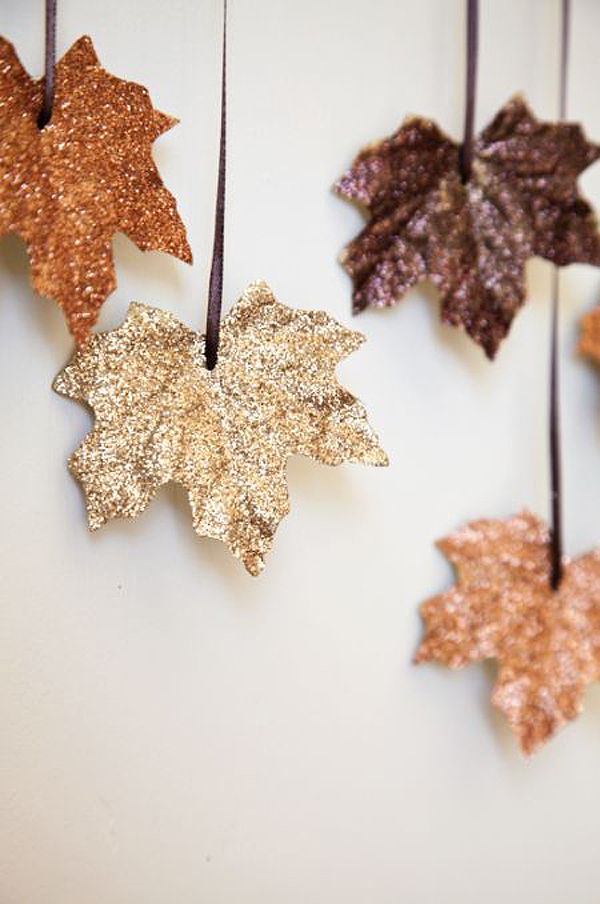 Glitter Leaves Garland via 6th Street Design School
Leaf Chandelier: Decoupage leaves over an inflated balloon, pop the balloon, & this is the end result! So pretty! It would be cute to make with leaves (real or fake) mod podge them around a balloon that has been sprayed with cooking spray, modpodge leaves on then pop balloon when dry and you have a beautiful piece of art. It's fun to do and display on table or hanging as chandelier.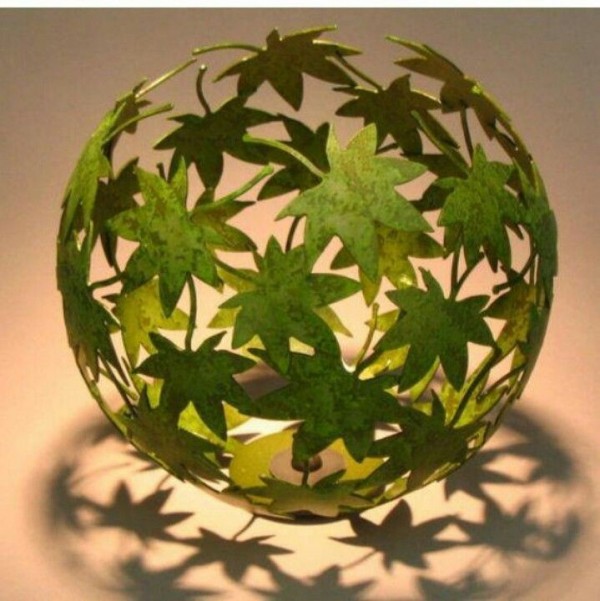 Balloon Leaf Art Via Ehow
Painted leaf art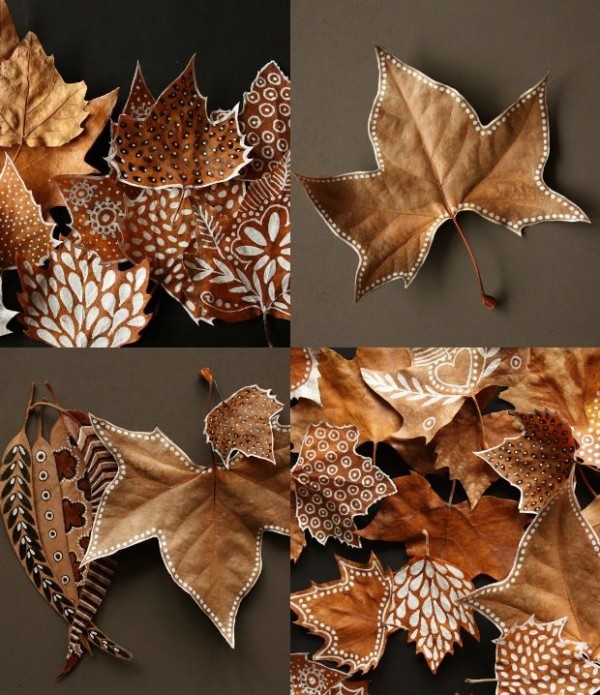 Leaf Mask: make mask from fall leaves for any party crafting.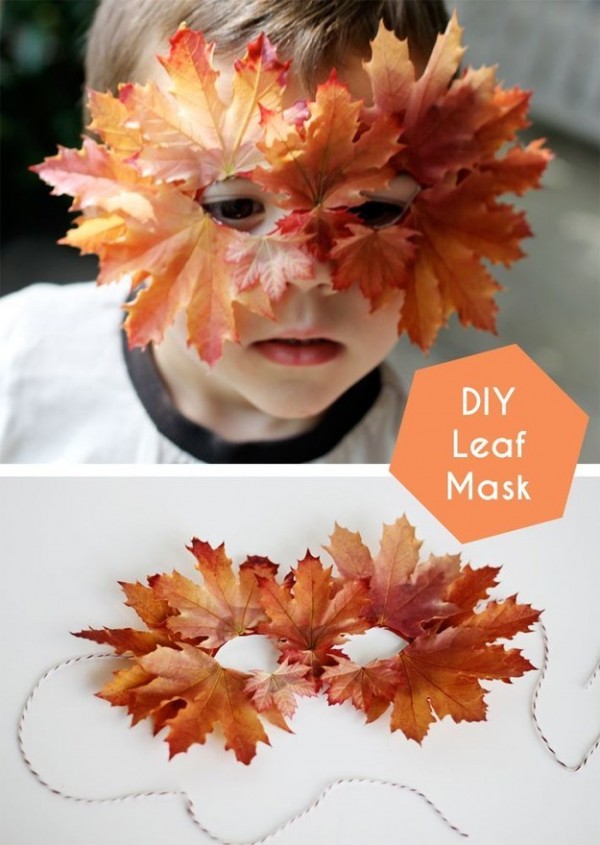 Leaf Mask Via Small Friendly
Nature's Ornament: Put natural element inside a clear ornament. Take off the top and slip the element in, bending slightly to fit if needed. Tie a coordinating ribbon at the top.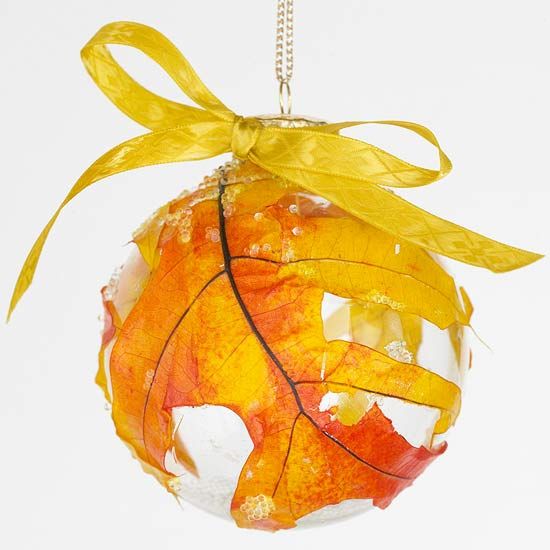 Nature's Ornament Via BHG
Frame Pressed Leaves: Press leaves to dry and keep them framed as wall decoration.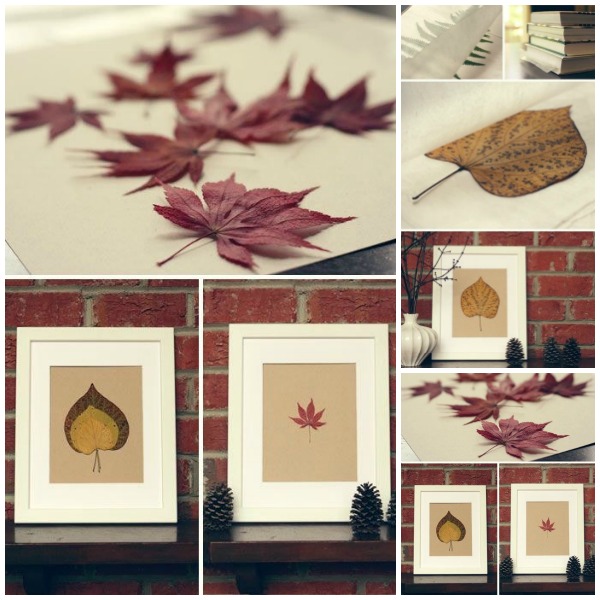 Frame Pressed Leaves Via Wit and Whistle
DIY Leaf Stamp Project: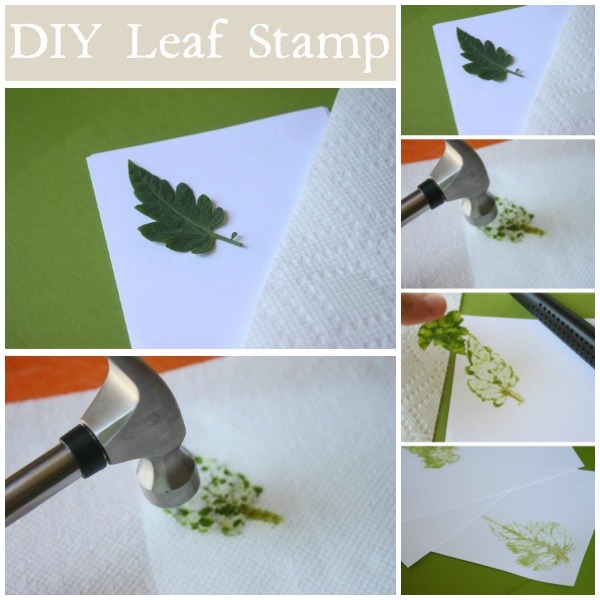 Leaf Stamp Project Via Small Friendly
Skeleton Leaf: To make these leaves first you have to add 10 teaspoons of baking soda to one litter of water in a pot. Bring the water to boil and add the leaves that you want to skeletonize. Let the leaves boil in the mixture of water and baking soda for about 20 to 30 minutes and then gently remove the leaves and place on a paper towel to absorb moisture. With a soft paint brush start removing the green flesh of leaves one by one and as you remove the softened green part you will see veins of the leaf appear. Dip this leaf skeleton in a mixture of water and food color and dry the leaf again on a paper towel.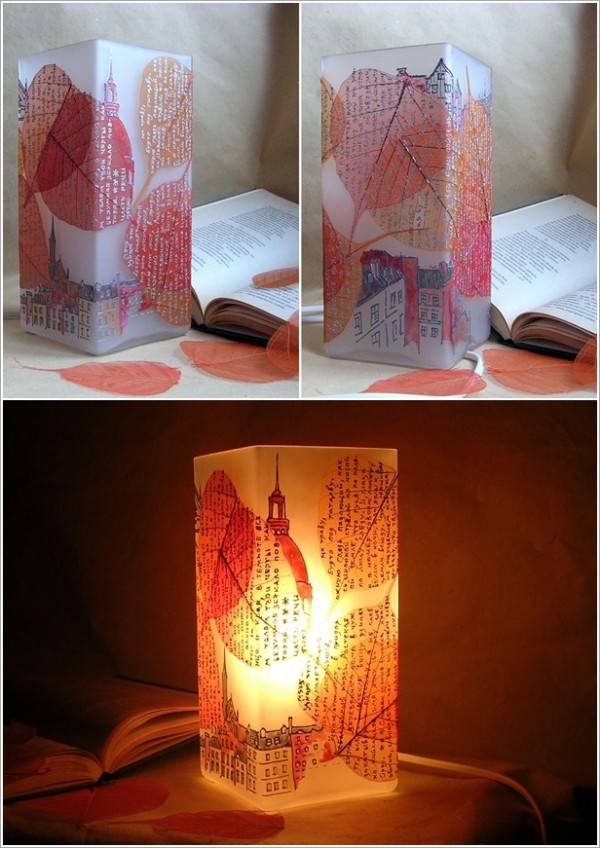 Spray painted Silhouette Leave canvas wall art: This one appeals to the gardener in me.  A plain canvas is first sprayed with a solid color, then a leaf is place, and the whole thing painted with a contrast color.  Remove the leaf and you have great wall art.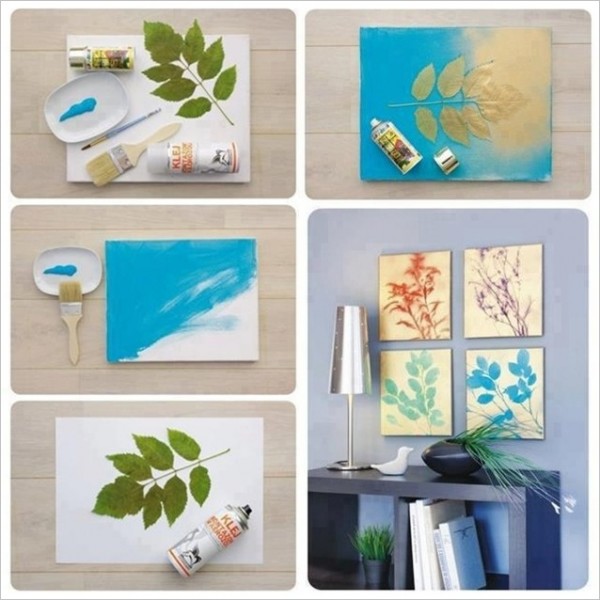 Spray Paint Silhouette Leave tutorial Via My Part of Space
Evergreen Candle Holder: Here is another easy DIY holiday candle project. You simply spray adhesive to flat evergreen pieces, attach said evergreens to the glass candle holder, trim the bottom, and you're done.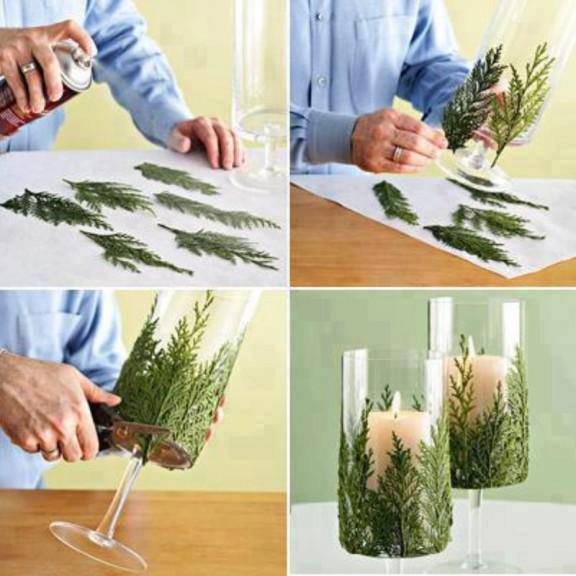 Evergreen Candle Holder Tutorial Via BHG
Fall Leaf Bowl: This delicate leaf bowl is quite the head turner, all thanks to an ample amount of Mod Podge and a foam ball form. If you want to use real leaves for this DIY, make sure they're freshly fallen so that they're flexible enough to bend without breaking.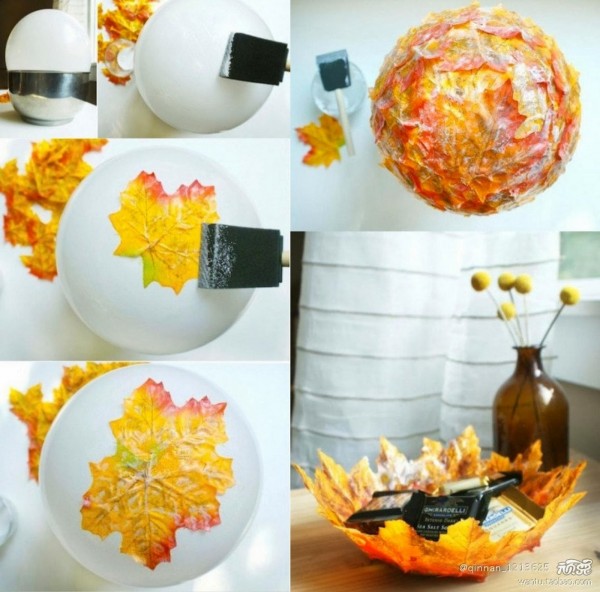 Fall Leaves Bowl via Shelterness
Leaf Mason Jar Luminary
Mason Jar Luminary Tutorial via Create Craft Love