We all know that dudes hate to clean. We tend to be dirtier and more unkempt due to laziness or just other priorities that take precedent beyond the tornado we've made our crib into. The thing is, once you move out of the frat house, or out of your college dorm room, pizza boxes left sitting in your apartment for multiple days won't cut it—not with your mom, not with your friends, and certainly not with the ladies.
Somehow we doubt that one just magically adopts an affinity for cleaning, and since we look out for you here, we're giving you a few pointers. Even if you are not "Mr. Clean," with these 25 Cleaning Hacks Every Man Should Know, you can fool just about anyone into thinking you're a regular Martha Stewart. You're welcome.
Tissue Trash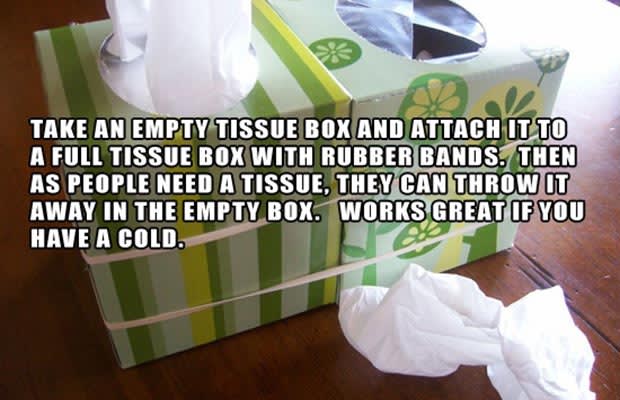 Tissue Box
Just attach your full tissue box to an empty one, and you'll have a tissue trash can for the used ones.
Peels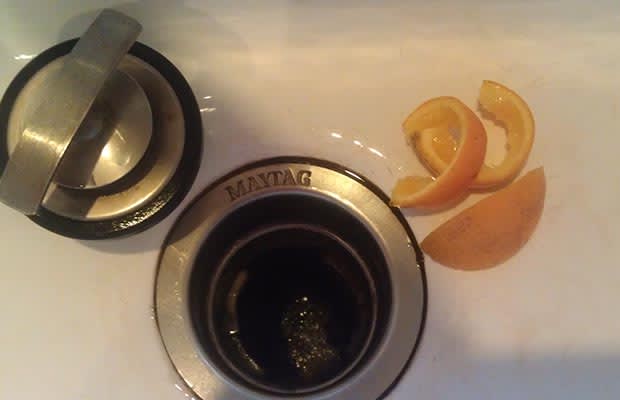 Peels
Put orange and lemon peels in the disposal and grind them instead of throwing them in the trash. This will give your kitchen a fresh citrus smell with no work at all.
SIlverware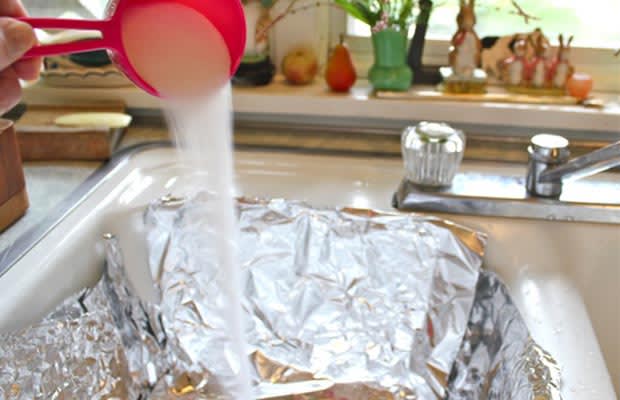 Silverware
De-tarnish all your silver at once by lining your sink with aluminum foil, adding a 1/2 cup of table salt and a 1/2 cup of baking soda, filling it with hot water, and then dumping in all your silver. Let everything sit for about 30 minutes. The tarnish all transfers to the foil, and you'll save a lot of energy from not polishing each one by hand.
Dryer Sheets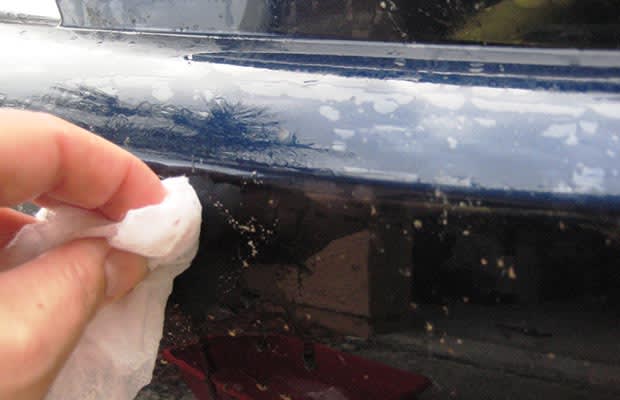 Dryer Sheets
Use old dryer sheets to polish the chrome and metal on your car instead of a normal rag for a better shine job.
Cutting Board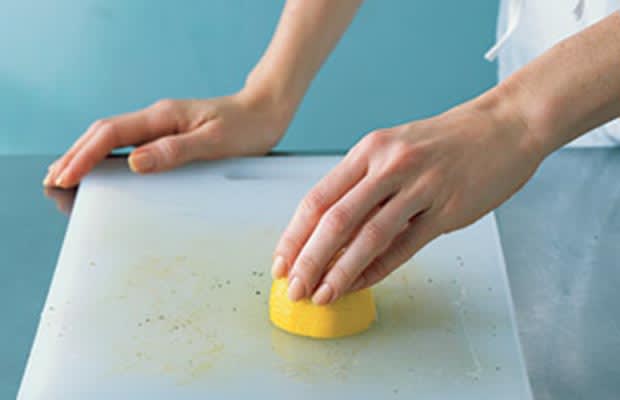 Cutting Board
Cut a lemon in half and rub down any light-colored plastic or wooden cutting board. Let it sit for twenty minutes and then wash it. This should remove any food stains and make your cutting board look new again.
Ceiling Fan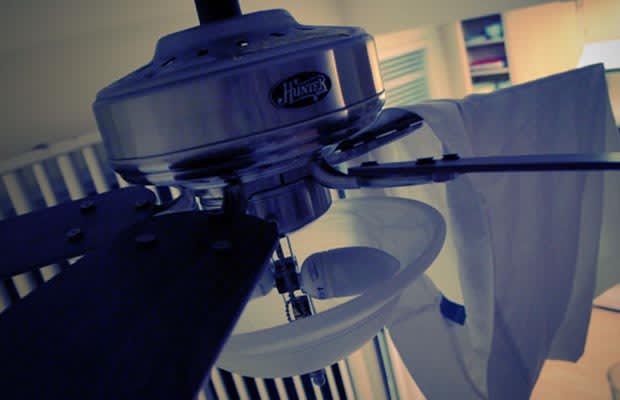 Cieling Fan
Slide a pillowcase over each of the blades on your ceiling fan, allowing it to collect all the dust, especially during this time of year when your fans will be working overtime.
Chalk It Up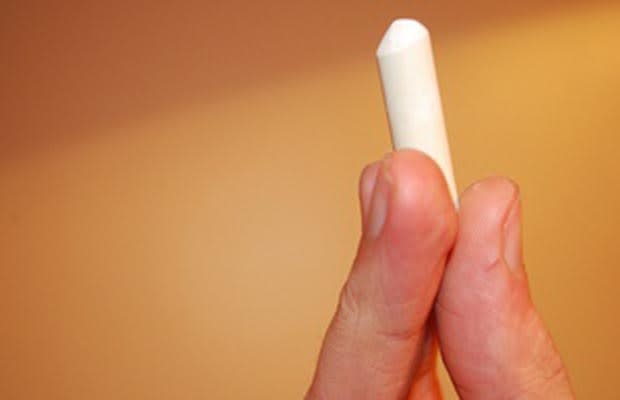 Chalk It Up
Simply rub some chalk over a grease stain before putting in the wash, and it will come right out.
Wax Paper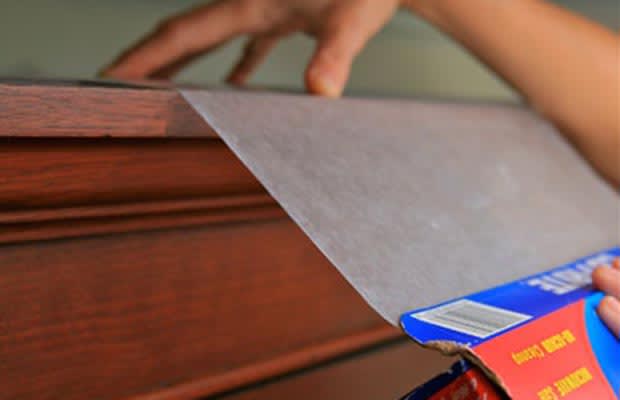 Wax Paper
Place a layer of wax paper on top of upper kitchen cabinets where dust and grease particles gather. Every few months, switch out the paper for a fresh sheet.
DIY Drying Racks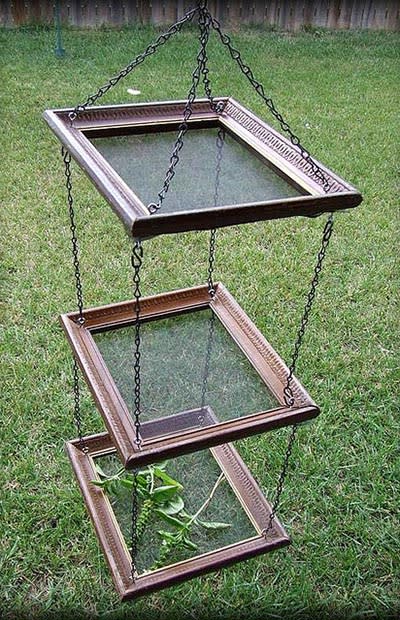 DIY Drying Racks
Use old picture frames, screen, and some chain to create your own drying racks, which can be used for dishes, or anything really.
Pool Cleaner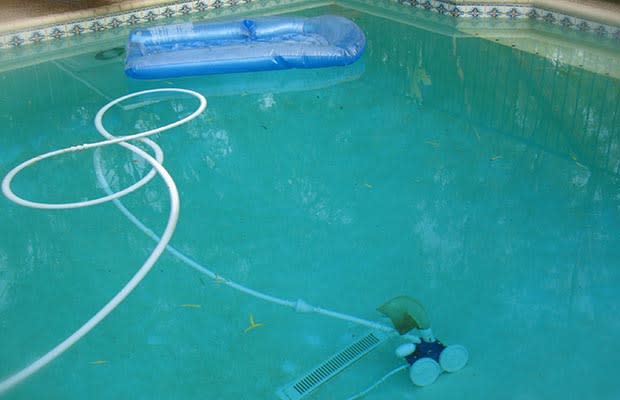 Pool Cleaner
Squirt Dawn dishwashing soap down the middle of the pool and all of the dirt, suntan lotion, etc. will move to the edges of the pool for easy clean-up, AND it makes the pool sparkle.
Ironing Efficiency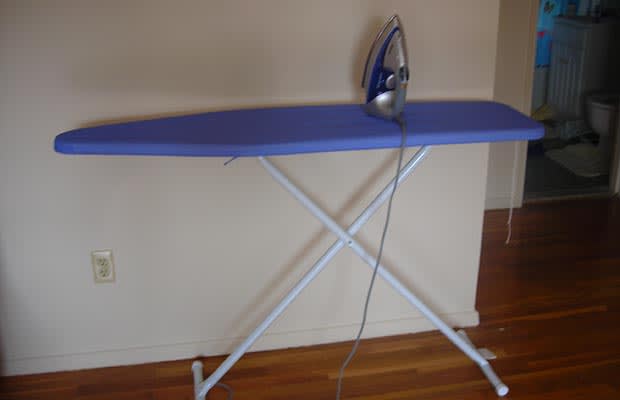 Ironing Effeciency
Run your iron over a sheet of aluminum foil to clean the plate. Then, place the foil under your ironing surface, and iron your clothes as usual. The foil acts as a conductor, allowing you to iron from the top and bottom simultaneously.
Corn Meal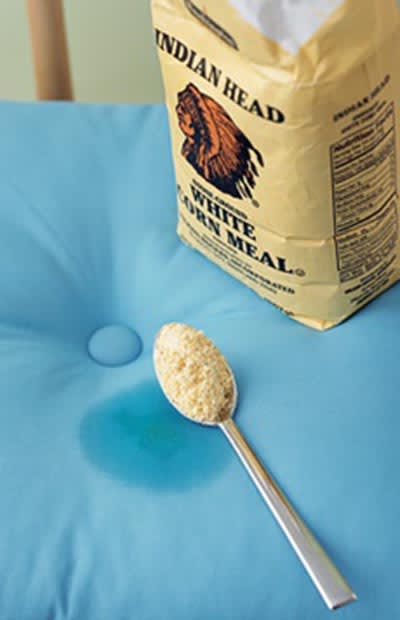 Corn Meal
Have a grease stain that you can't remove? Coat it with corn meal and let it sit for ten to fifteen minutes. After that, vacuum up the corn meal, and the stain will be gone. Magic!
Toilet Fresh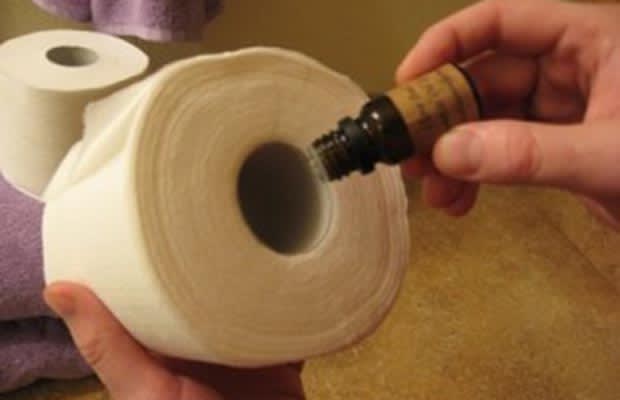 Toilet Fresh
When you're changing your roll of toilet paper, put a few drops of your favorite essential oil in the middle of the roll. This will work as an air freshener every time you use a piece of toilet paper.
Hard-Water Stains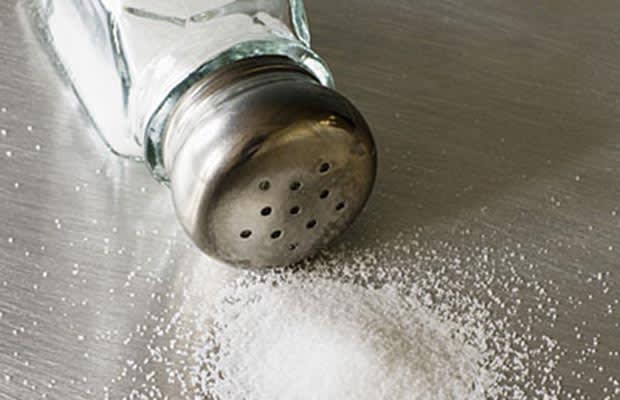 Hard-Water Stains
Make a paste of 1 teaspoon of vinegar and 2 tablespoons of salt. Apply this paste to your sink fixtures and rub with a cloth. This should remove any stains and leave your sink looking pristine.
Recondition Iron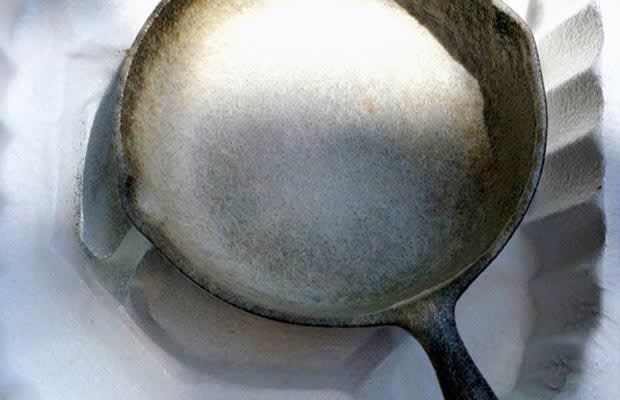 Re-Season Iron
Do you cook with really old iron skillets? This might help you. Get some heavy duty oven cleaner and coat your old skillet in it. Put the pan in a plastic bag, and let it sit for a few days. Take the skillet out and wipe it down with a vinegar and water mixture, while heating it on the stove. Next, wipe down the skillet and coat it with a layer of Crisco. Stick the pan upside down in the oven for an hour, re-applying a layer of Crisco every ten minutes. At the end of this process, you will have a brand new skillet.
Toilet Rings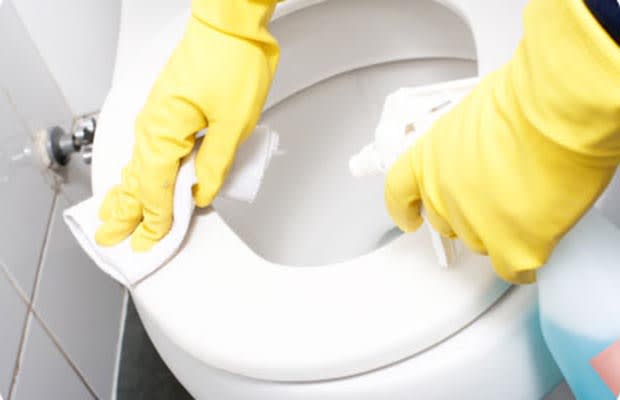 Toilet Rings
Use dryer sheets to get rid of disgusting rings on your toilet for a cheap solution that works better than Mr. Clean.
Homemade Febreze
Homemade Febreze
What you'll need: 1/8 cup of fabric softener, 2 tablespoons Baking Soda, hot tap water and a spray bottle. Once you have everything, combine it all in bottle, shake well, and use! This will save you five bucks.
Vomit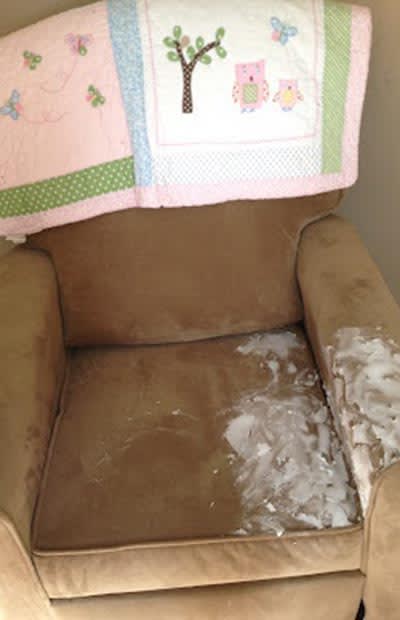 Vomit
Make a paste of baking soda and water, and take a spatula or spoon, generously spreading it onto the affected area. It's almost like frosting a cake, except way less appetizing. Let it dry overnight, or until it becomes a powdery consistency again, and it will vacuum right up!
Foreman's Friend
Foreman's Friend
Right after using the grill, unplug it and place a wet double-sheet of paper towel in between the lid and the surface. The leftover heat causes the towel to steam and clean the grill. Wiping it dry with another paper towel is all that's needed.
Plastic Containers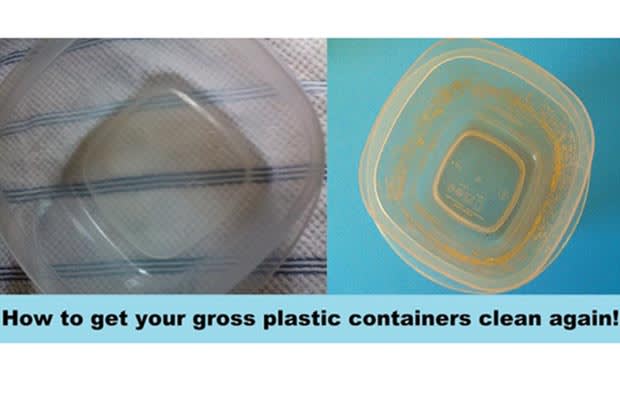 Plastic Containers
Fill the container almost to the top with water and a squirt of dish soap. Add 1/4 cup of bleach and microwave the container for 40 seconds, or until the solution is boiling. Allow them to rest until the water is lukewarm and finally wash out your container. It's good as new!
Oven Cleaner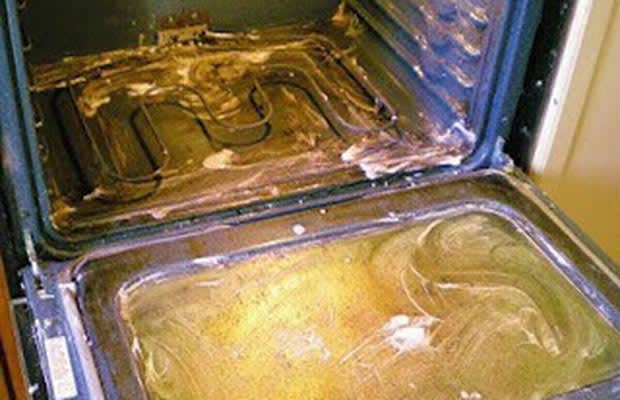 Oven Cleaner
Mix baking soda, vinegar, and a few drops of Dawn into a paste. Coat the inside of the oven with your paste and turn it on for five minutes. Then open the oven and let it sit for fifteen minutes. Finally wipe the paste off, and you'll be left with a sparkling oven.
Cabinet Cleaner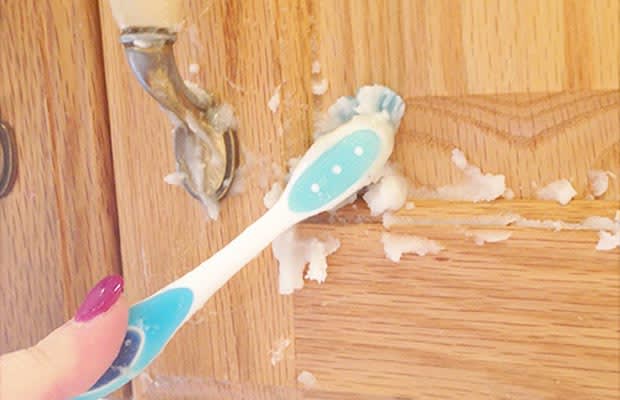 Cabinet Cleaner
Make a concoction of baking soda and vegetable oil in a bowl. Dip an old toothbrush in your concoction and scrub your kitchen cabinets with it. Not only will it remove gunk, but it will make the wood look less worn.
Clean Your Microwave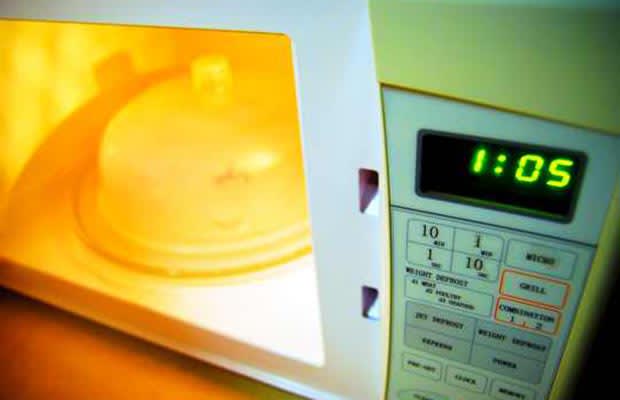 Clean Your Microwave
Put a bowl with water and vinegar in your microwave for about ten minutes until the water evaporates. This will soften all the food remnants and allow you to swipe away with one stroke.
Swiffer Towel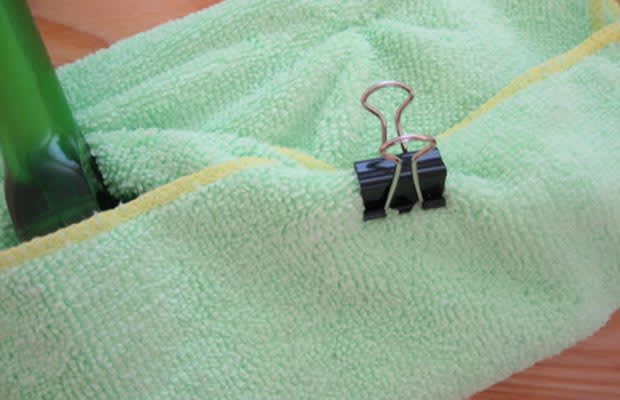 Swiffer Towel
Instead of paying money to replace your swiffer cloth, clip a towel or washcloth and use that.
Sock Duster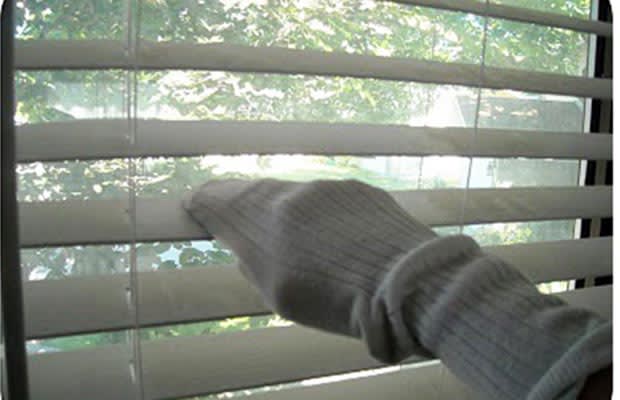 Sock Duster
Put an old sock on your hand and use it to dust your apartment.