There are some times in my life when I can't "stand it" any longer…. One day last month was that day for my guest/powder room. I had many pins on my bathroom Pinterest board for ideas and after 108 pins about decorating this small tiny space I could not pin anymore! I had to actually put down my phone and do some DIY!
(**If you like this post make sure you FOLLOW me right here on Hometalk.**)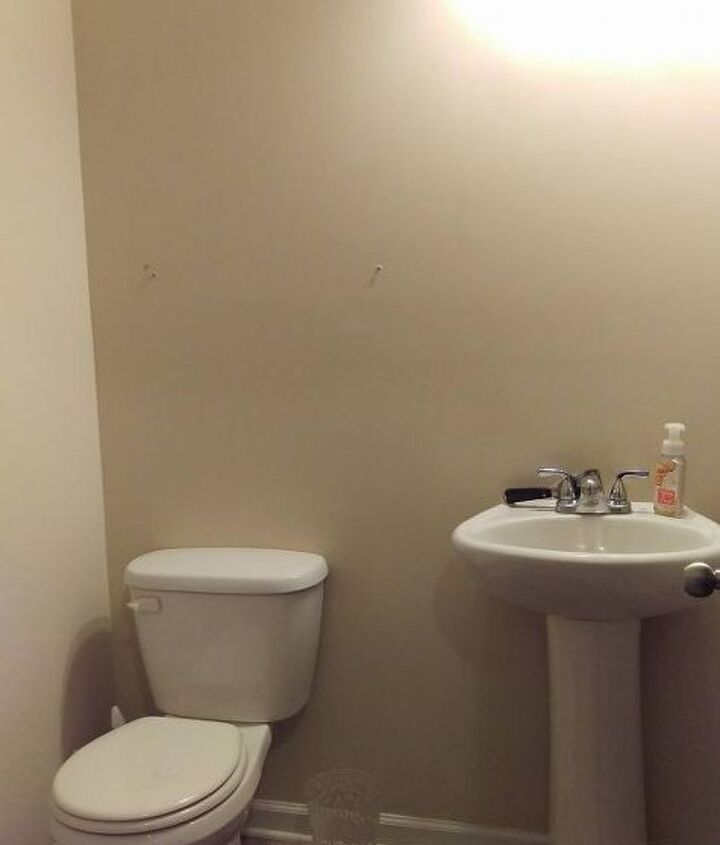 I removed what little decor I had in this space and stared at it until it hit me… I needed a bold but neutral accent wall. It was the perfect space as our home would eventually turn into a rental and then for sale some day this space had no commitment to any room for furniture or window treatments. It was just 4 walls a ceiling painted in builder grade cream flat paint and a floor with a permanent fixture of a toilet and sink that were whit … white and brown floors…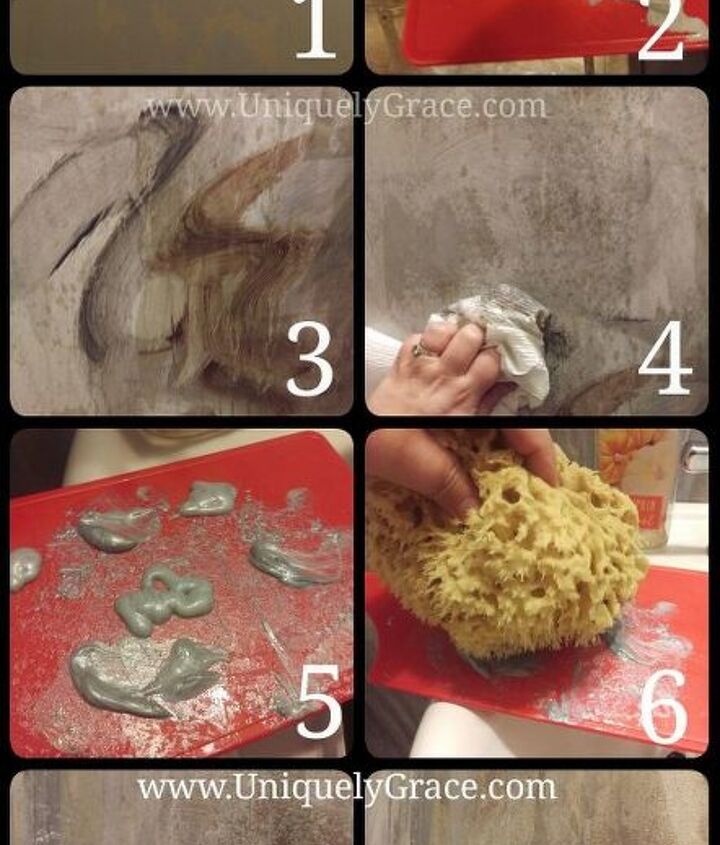 Powder Room Faux Finish Step by Step:
I painted this entirely with a plastic putty knife from the dollar store and a little with a sea sponge.
PREP Step: Tape off other sounding walls, ceiling and moldings. Using two layers of 3 painters take creating a 6 boarder to keep paint from flinging off onto the other surfaces. Put a drop cloth over your toilet, sink and floor. You may need to tape a drop cloth around each fixture in the Powder Room. I turn off the water to my toilet, drain the tank and remove it so I can paint easily behind the toilet.
Step I happened to have extra grey latex paint in my garage. I began scraping it on with the putty knife leaving some of the builders flat paint cream exposed. (see figure Let it dry.
Step Using Shabby Paints Chalk-Acrylic Paint in shades of grey and off whites I plopped a dollop of each color on a handled cutting board from the dollar tree. Filling my putty knife with no more then three colors at a time (see figure I then began scraping the paint from the ceiling down working in small sections and repeating the process till the wall was fully "Painted" leaving some of the cream and grey in step one exposed. This technique is a form of "color layering". Working in small sections I also was able to splatter each section with rubbing alcohol. This Flash dries the paint in place and creates drips that dry quickly also adding even more texture.
Step #3 & 4: Since my flooring was warm colors and we planned to even add hard wood at some point I wanted this wall in my Powder Room to reflect warmer tones of grey. Again working in small sections. I glazed this wall with Hazelnut ReVax and Black ReVax then blotted it off with a rag also splattering it with the rubbing alcohol technique.
Step & 8: This was a combination of more grey Chalk-Acrylic Paints and Shimmer paints/Glazes and Pearl ReVaxes. This time blotting it on with a sea sponge and then taking the putty knife to the wall to smooth it out. This added random batches of color and shimmers and completed the process.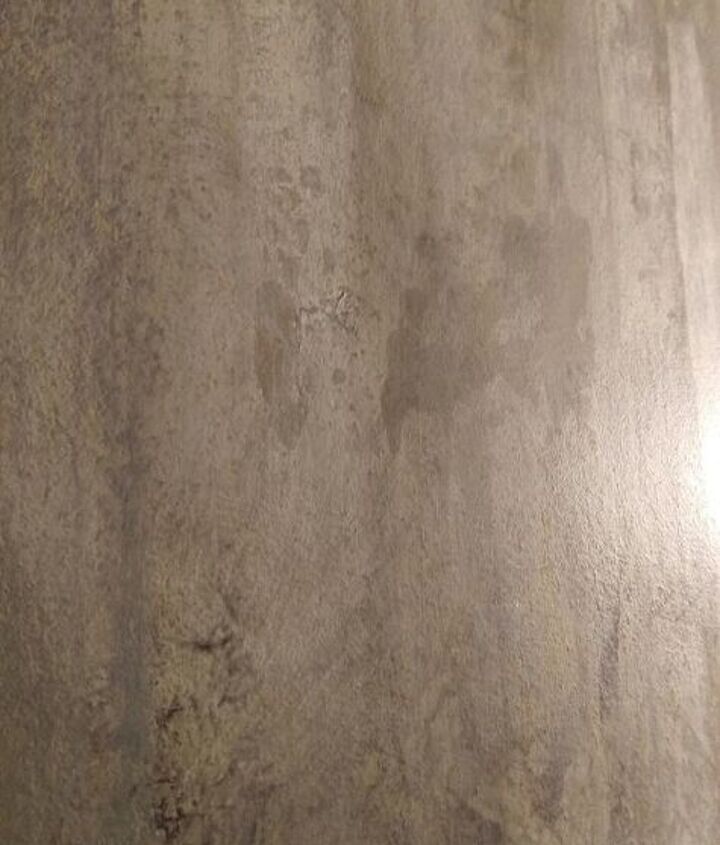 Step I sealed this wall with Shabby Paints Varnish for a great satin shine and cleanable surface, since after all this is a Powder Room.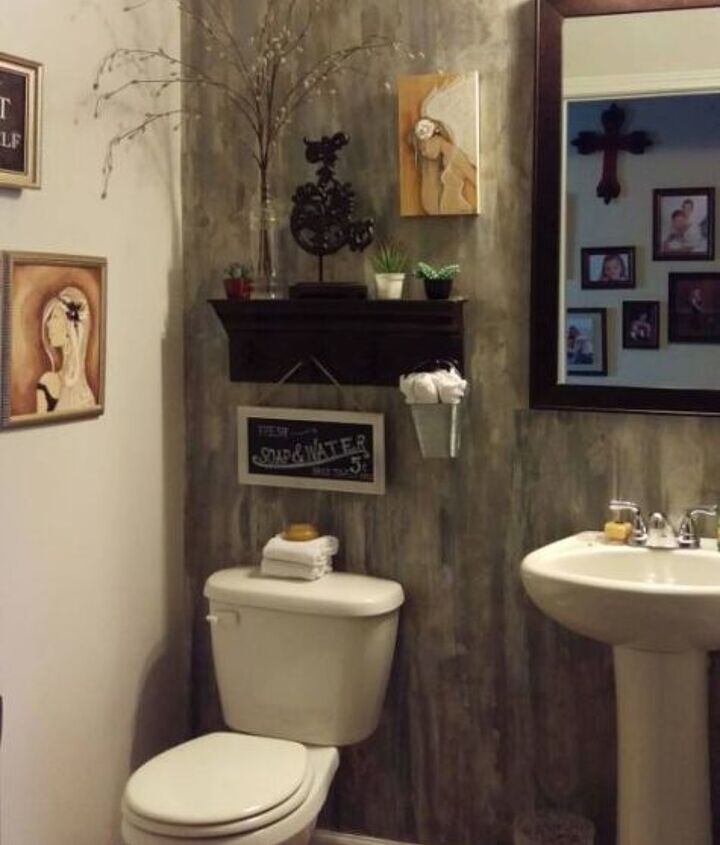 Powder Room Final Pic!
Everyone in my family now loves this Powder room and it is a great space for my guests.
For more photos of this space/accent wall check out my blog post http://uniquelygrace.com/painting-powder-room-makeover
Materials I used for this project:
Chalk Paint (www.UniquelyGrace.com)
Latex Paint (Olympic (Lowes))
Plastic Putty Knife (Dollar Genearal)
Wide Painters Tape (Lowes)
Sea Sponge (Hobby Lobby)
Cheap Cutting Board with handle for paint palet (Dollar Tree)
To see more: http://uniquelygrace.com/painting-powder-room-makeover/